Legal issues – contract disputes and ownership squabbles – are just part of doing business. The quicker they're resolved, the quicker business owners can get back to work.
That's the theory behind Georgia's State-wide Business Court, which offers businesses a fast-track process for handling legal disputes.
"What I am focused on is efficiency," said the Hon. Walter Davis, who was appointed to start Georgia's State-wide Business Court after voters approved its creation in a 2018 referendum. "Every dollar you spend that isn't on a capital expense that will help you generate revenue is a dollar you're just flushing down the toilet … So, I view it as my responsibility to build something that enables (the parties) to come in, get their legal disputes resolved and move on."
A lecturer at the UGA School of Law, Davis shared the lessons he's learned from launching Georgia's business court with more than 100 Terry College of Business students on Feb. 9 as part of the Terry College Certificate in Legal Studies Lecture Series.
Many court circuits have divisions that handle business disputes exclusively, but statewide business courts are a new phenomenon. While Delaware has operated what is considered the preeminent court for business disputes for more than a century, South Carolina, North Carolina and now Georgia recently established courts modeled after Delaware's. Lawmakers see the courts as a way to increase their states' business-friendly reputations.
"Georgia has been the best state to do business in for the last eight years," Davis said. "There was a point of view that Georgia needed a court that would handle business matters to attract other businesses to come to Georgia and to maintain that lofty status."
Davis was appointed, in large part, because of his extensive experience litigating in Delaware's business courts. He was a partner at Jones Day in Atlanta for 17 years when the governor asked him to take the bench in 2019.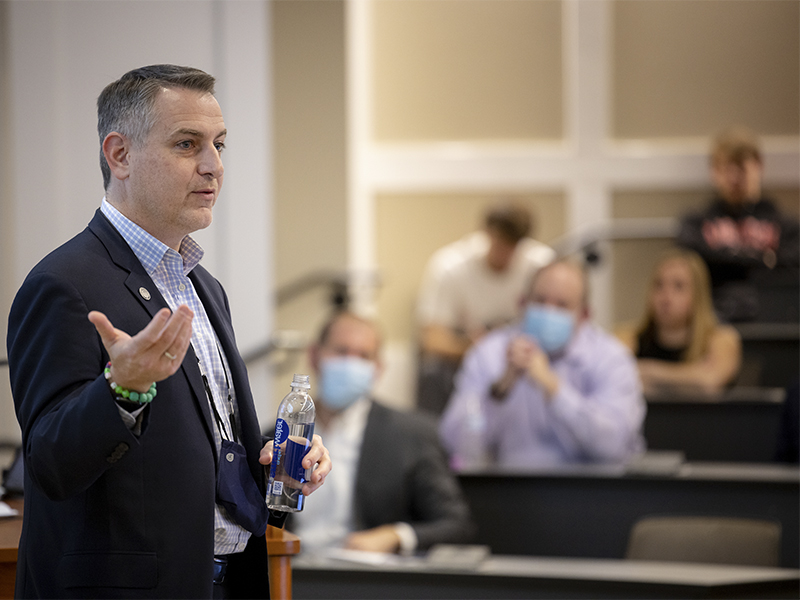 He wasn't convinced he wanted to be a judge at first, but it felt exciting to start something from scratch, he told the students.
"I didn't want to be a judge, I didn't aspire to be a judge," he said. "But it's one of those things I would like you to take as a lesson from today: Don't be afraid to take a chance on an opportunity you didn't expect.
"The ability to create something from scratch; the ability to be my own boss and do something high-profile and high-risk was appealing to me."
Over the past three years, Davis has developed the court's staffing structure, its operational policies and even the court's seal. He took things he liked from other courts and tried to fix the bottlenecks or frustrations he experienced in private practice.
It was an exercise in entrepreneurship, with Davis creating a court focused on streamlining the user experience from beginning to end. He started a 24-hour helpline for parties and built a system for virtual hearings — even before the pandemic made that the norm.
Georgia's business court can't hear cases involving landlord and tenant disputes, farms or any case involving bodily injury, among other specific exclusions. But it has broad subject matter jurisdiction over most other types of business disputes. With limited exceptions, the amount in dispute must exceed $500,000 to meet the court's jurisdictional requirements.
Plaintiffs can file suit in the business court directly, no matter where they are located, because the court holds concurrent jurisdiction with Superior Court circuits across the state.
Hearing cases from across Georgia, Davis said his new role is the hardest job he has had since graduating from law school. But he's quick to add it's also the most rewarding and has given him a new sense of appreciation and respect for the U.S. legal system.
"There's an immense amount of responsibility you feel when you say, 'You win, you lose.' – especially for cases where there's a significant amount of money at stake," he said. "Then you see the parties pack their bags and go, and they follow what you say. I don't have an army; I don't have a police force. I'm just one person. It's their respect for the courts. That is the absolute awe-inspiring nature of our system."