Terry College recognizes four outstanding diverse alumni who are pioneers in their industry. These Terry Trailblazers are business leaders who achieved career success while making a meaningful impact on their organizations and communities.
Hear responses from the 2022 Trailblazers when asked what advice they wished they'd received in college.
We are honored to recognize the following alumni:
Multimedia
The 2022 Terry Trailblazers were honored on February 23, 2023. Click the link below to watch their panel discussion.
Passcode: 3U*X5#Yz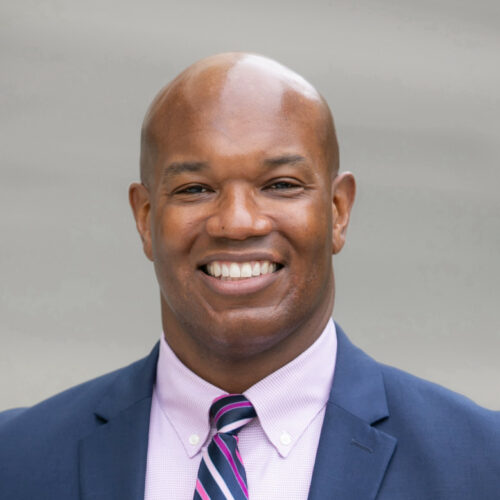 Chris Allen (BBA '92)
Chief Financial Officer, Keck Medicine of USC
Chris Allen is chief financial officer (CFO) of Keck Medicine of USC, a leading academic medical center in Los Angeles, California. He oversees Keck Medicine's strategic financial plans, financial and governmental reporting, budgeting, funds flow, revenue cycle and material management. He also leads the assessment, planning, implementation and evaluation of the health system's financial programs.

Previously, Chris served as CFO for Keck Medical Center of USC, overseeing comprehensive financial planning for the center. He has been recognized by multiple professional organizations, including being named Rising Star CFO of the Year by the Los Angeles Business Journal in 2022. He was formerly CFO for Adventist Health Glendale Medical Center, as well as interim CFO for the University of California Irvine Medical Center.

Allen holds a bachelor's degree in business administration and finance from the University of Georgia, as well as a certificate in direct costing and contribution reporting from the University of Wisconsin School of Business.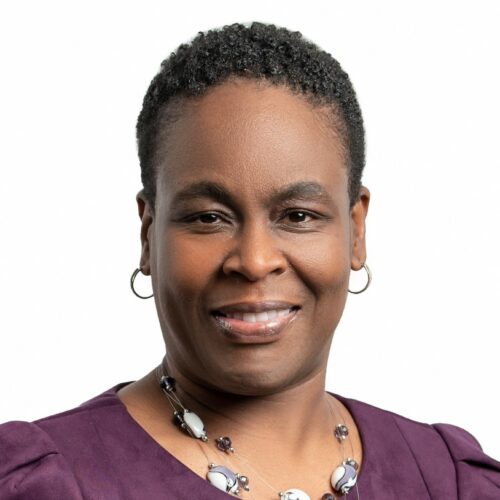 Tonya Davies (BBA '95)
Chief Operating Officer, Professional Risk Management Services and Vice President, Fair American Insurance and Reinsurance Company
Tonya Davies is chief operating officer of Professional Risk Management Services (PRMS) and vice president of Fair American Insurance and Reinsurance Company (FAIRCO), subsidiaries of New York based TransRe. She oversees business operations for PRMS, a leading carrier in medical professional liability (MPL) for psychiatrists.

Previously, Tonya was a senior vice president with TransRe, where she was responsible for managing a portfolio of companies specializing in MPL. Prior to joining TransRe in 2000, Tonya held underwriting positions as a health-care underwriter with Zurich North America and AIG.

Tonya chairs the diversity committee for TransRe and is a committee member of the employee resource group Women in Reinsurance (WiRe), which strives to create equal gender representation at all levels within the organization.

Tonya received her bachelor's degree in risk management and insurance from the University of Georgia. She is a Chartered Property Casualty Underwriter (CPCU), an Associate in Reinsurance (ARe), holds property and casualty producer licenses, and was named a 2022 Woman to Watch by Business Insurance magazine.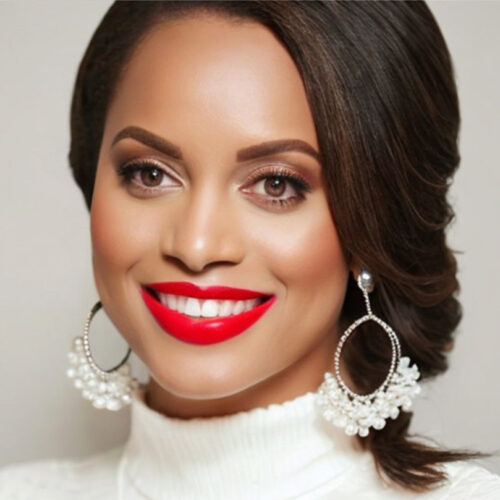 Laura Picott (BBA '11, AB '11)
Business and Legal Strategist, UPS
Laura Picott is a business and legal strategist with over a decade of experience working at Fortune 50, 100 and 200 companies. She is a trusted advisor for C-level executives at small to large corporations concerning crisis management, international business practices and legal insights.

Laura is a business leader at UPS, where she works within several business units and divisions, including UPS Legal. Additionally, she worked as a legal professional for The Coca-Cola Company's global legal team before transitioning to the global cybersecurity and privacy team, where she was responsible for researching and assessing the potential impact of privacy laws on Coca-Cola in North America.

Laura's legal experience also includes the Tractor Supply Company, where she developed and facilitated company-wide legal training for non-legal business professionals and drafted commercial and licensing agreements.

A proud Double Dawg, Laura obtained a bachelor's degree in economics from the UGA Terry College of Business and a bachelor's degree in political science from the School of Public and International Affairs. She also holds a law degree from Mercer University School of Law.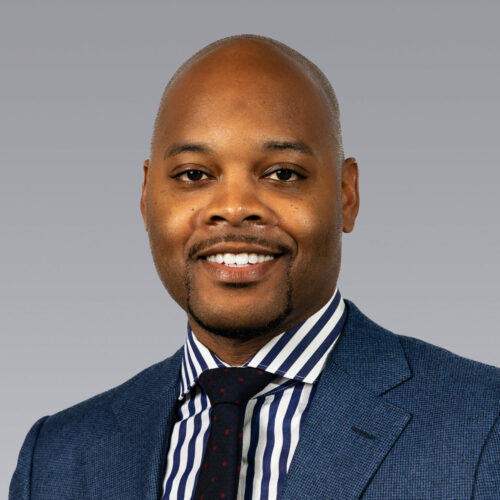 KB Yabuku (MBA '10)
Vice President of Brokerage, Colliers International
KB Yabuku is a commercial real estate broker and vice president with Colliers International focusing on office, industrial and retail properties throughout the Southeast. He transitioned to the role from Colliers' occupier services group, where he was responsible for driving business growth as a senior-level consultant and sales executive.

Prior to joining Colliers, KB worked for Ackerman & Co., where he served as vice president of the investment sales team. Previously, he was Southeast managing director for Hart Lyman Companies, was associate director for Stan Johnson Company and worked in the commercial banking arena for BB&T (now Truist). He began his career with Jones Lang LaSalle/Staubach Company as an office and industrial tenant representation broker.

KB earned a bachelor's degree in real estate from Georgia State University and an MBA from the University of Georgia. He has served on the Terry College of Business Young Alumni Board, is a graduate of the Urban Land Institute's Center for Leadership program, and is involved with various professional institutions, including the Real Estate Group of Atlanta, Atlanta Commercial Board of Realtors, International Council of Shopping Centers and CoreNet.
Class of 2023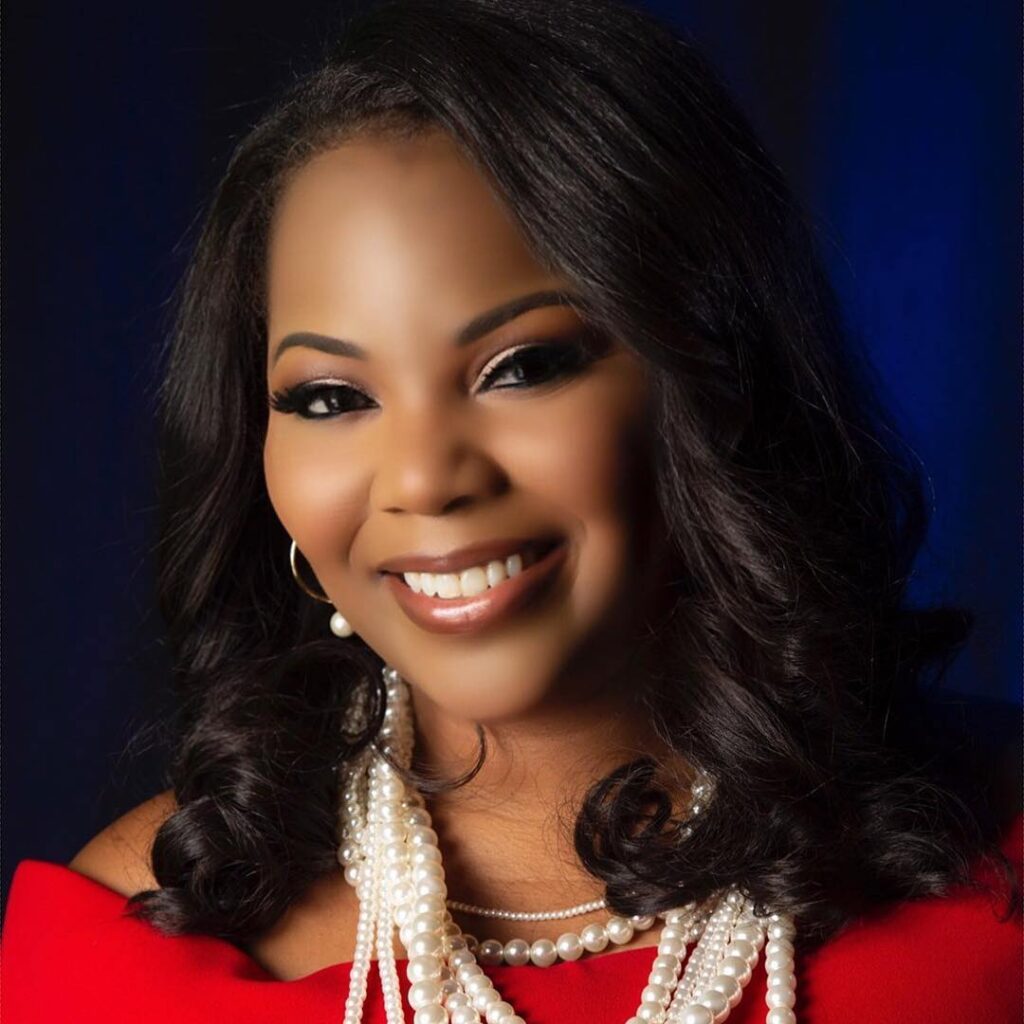 Kim Adams (BBA '99)
Vice President of Diversity, Equity & Inclusion and Talent Acquisition, Ulta Beauty
The first vice president of Diversity, Equity & Inclusion and Talent Acquisition at Ulta Beauty, Kim Adams amplifies DEI initiatives by using the power of beauty to bring to life the possibilities within each of us. Kim is responsible for leading the teams' vision and strategy as the nation's largest beauty retailer furthers its DEI investment while building synergies across the company's hiring and pipeline practices.
An accomplished leader with 20 years of experience in human resources, DEI, and business process, before joining Ulta Beauty, she served as vice president of human resources, diversity, equity and inclusion culture, and engagement reporting to the chief people and diversity officer at Papa John's International. Her top strategic priority was to build a culture of leaders who believe in diversity, inclusivity and winning for more than 120,000 corporate and franchise team members.

Previously Kim served as vice president of engagement, inclusion and diversity at Equifax. She has also served as senior director, employee experience and culture at AECOM and held increasing leadership roles in human resources, diversity business marketing, and operational excellence at global organizations like The Coca-Cola Company, Cox Automotive, and Marsh Inc.
Some of Kim's community endeavors include the Atlanta Community Foodbank board, True Colors Theatre board, and LEAD Atlanta. Her servant leadership has garnered her accolades including the Women Looking Ahead magazine 2022 Power 100 Woman of Influence award, Diversity Global magazine's Top 15 Champions of Diversity for 2022, Women We Admire 2022 Top 50 Women Leaders of Georgia, Atlanta Business League's 2022 Top 100 Women of Influence, and Outstanding Georgia Citizen by Georgia's Secretary of State and House of Representatives. She is also a proud and active member of Delta Sigma Theta Sorority, Inc.

Kim has a Bachelor of Business Administration degree in finance with honors from the University of Georgia Terry College of Business and a Master of Business Administration from Georgia State University Robinson College of Business. She also holds an executive certificate from Harvard University Kennedy School for Promoting Racial Equity in the Workplace and a D&I Professional Certificate from Cornell University. Kim loves to travel and resides in Atlanta with her spouse, son, and fur baby.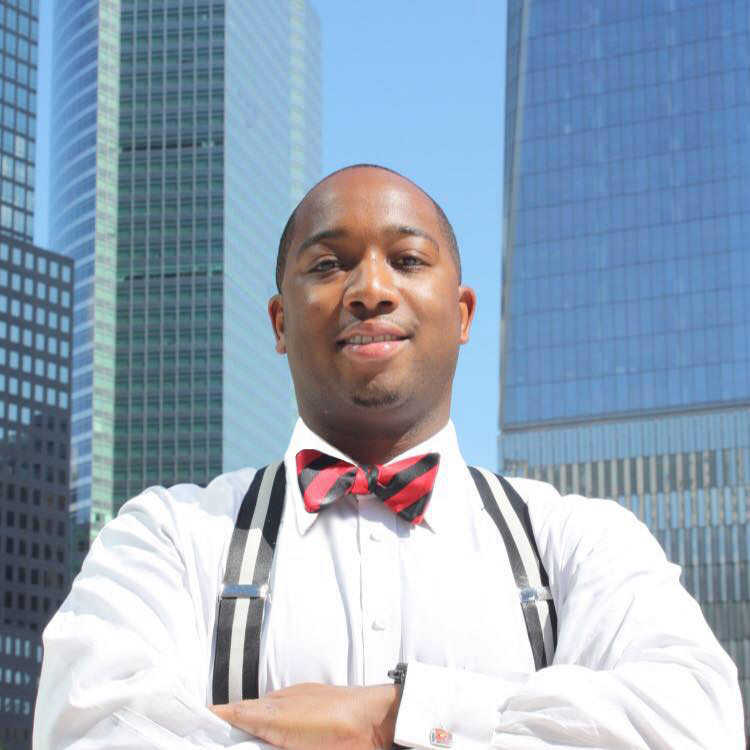 Lael Chappell (BBA '06)
Chief Marketing & Business Development Officer, Desq
Lael Chappell is the Chief Marketing & Business Development Officer at Desq, a specialty accelerator platform established to empower entrepreneurial underwriters to launch and manage their own tech-enabled MGAs (Managing General Agencies). In his role, Lael brings his extensive broking and underwriting expertise in alternative risks, integrated risks, mergers & acquisitions, private equity, and real estate insurance solutions to drive an innovative approach to program development for specialty and emerging commercial insurance risks.

Lael has received numerous awards for his contributions to the insurance industry and as an ambassador for Diversity, Equity, and Inclusion initiatives throughout his career. Most recently, Lael was recognized in the 2023 Global 100 Class by Insurance Business of America as well as a recipient of the inaugural Insurance Brokers Association of New York Diversity, Equity, and Inclusion Excellence Award in 2022.

Lael graduated from the University of Georgia with a Bachelor of Business Administration (BBA) in Finance and a BBA in Risk Management and Insurance from the Terry College of Business. Lael also earned full alumni status after his completion of the Program for Leadership Development at Harvard Business School and is a 2020 Masters of Business Administration graduate of the EMBA Global Asia Program jointly conferred by Columbia Business School, London Business School, and the University of Hong Kong.

Lael was a member of the Terry Young Alumni Board, a 2022 40 Under 40 recipient, and is a current member of the One Hundred Black Men of New York, a mentor for the Global Insurance Accelerator, a mentor for the Insurtech Fund Digital MGA Lab, an Innovation Advisor for Lloyds Lab, serves as a Global Advisor for the Phoenix Foundation (based out of Hong Kong), and is a member of the Forbes Business Development Council.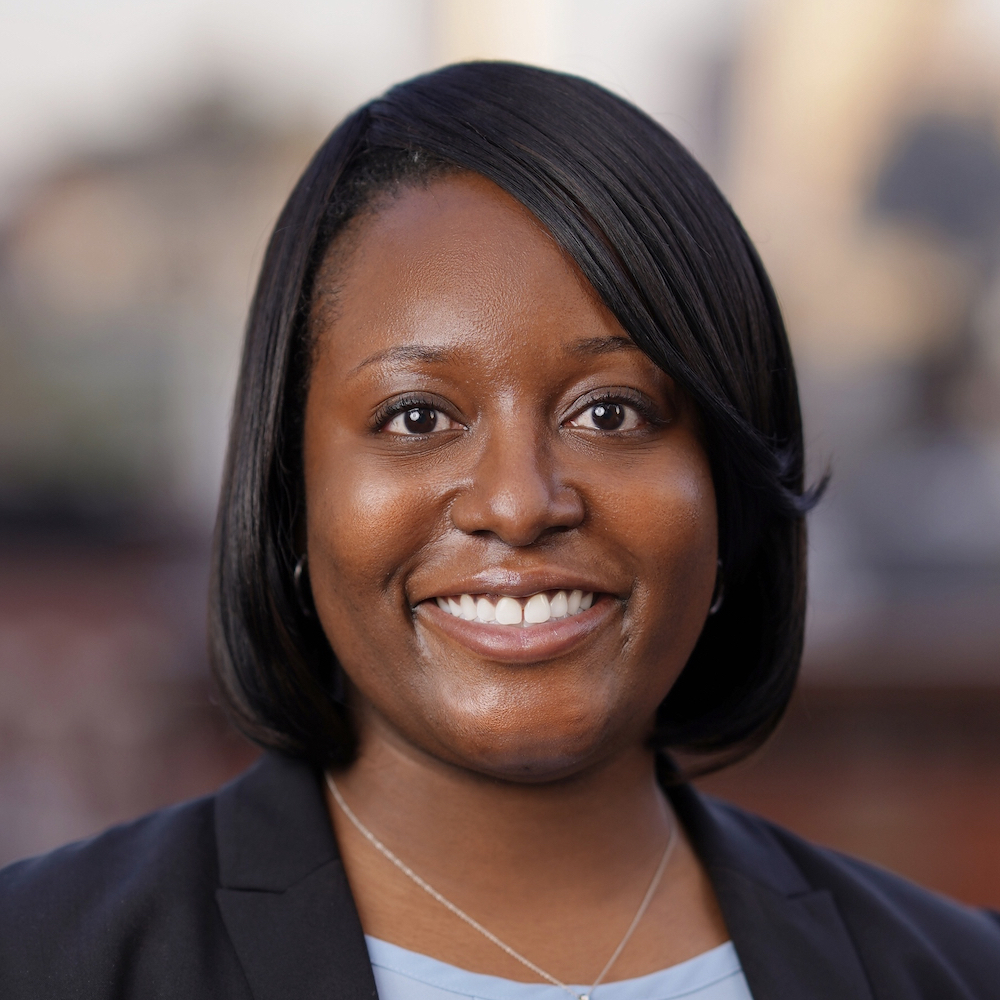 Chloé Kelley (BBA '06)
Executive Vice President, PIMCO
Chloé is EVP in PIMCO's New York office, focusing on institutional client servicing. She is a founding member of PIMCO Black and chair of PIMCO's client management Inclusion & Diversity council. She also co-leads PIMCO's emerging broker outreach program. Prior to joining PIMCO in 2013, she was a credit research analyst at J.P. Morgan and managed core fixed-income portfolios for institutional clients at EARNEST Partners. She is a CFA charter holder and holds the CAIA designation.

Chloé is a Trustee of the University of Georgia Foundation where she serves on the Investment Committee and Audit and Corporate Governance Committee. She is also a member of the Terry College of Business Alumni Board, where she serves on the DEI committee. She is a founding member of the Executive Committee of the GenLove board for God's Love We Deliver.

Chloé is a recipient of the UGA Blue Key Young Alumnus Award and has been recognized on the 40 under 40 lists of the UGA Alumni Association and Black Women in Asset Management. She earned a BBA in International Business from the Terry College of Business at The University of Georgia and received an MBA from the University of Chicago Booth School of Business.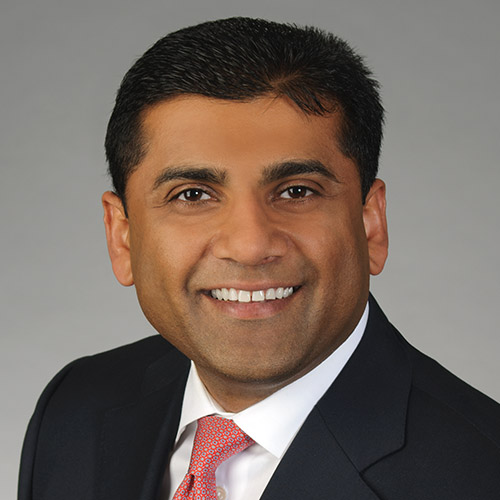 Ameet Shetty (BBA '96)
Chief Data Officer, The Pilot Corporation
Ameet Shetty serves Pilot Company as Chief Data Officer, leading the Enterprise Data & Analytics Office with responsibility for driving the strategic vision and effective deployment of data and business intelligence capabilities to improve efficiency, reduce risk, and enable strategic business growth. This includes deploying various analytical approaches to data management and governance programs, maintaining data operations, and managing business-aligned data teams.

Prior to joining Pilot, Shetty served as Chief Data & Analytics Officer at McDonalds Corporation and at SunTrust Banks, Inc. Other roles at SunTrust include Corporate Functions Business Information Officer, Chief Technology Officer for Business Intelligence and the Bank's Corporate Functions, chair for the SunTrust Global Offshore Committee, and Director of Global Outsourcing. 

Before joining SunTrust in 2001 as the Technology Division Senior Financial Manager, Shetty was the Corporate CFO for IT/Bank Operations & Sourcing at Fifth Third Bank, the IT Executive Finance Manager for Bass Hotels & Resorts, and he held roles in finance and outsourcing at IBM. 
Shetty earned an MBA in Marketing from Georgia State University and a bachelor's degree in finance from the University of Georgia. 

Shetty's professional awards and recognition include Oracle's North American Big Data Leader of the Year (2016), the Technology Association of Georgia's Creative Innovation Award for Analytics (2017) and the Celent Model Bank Award for Data Infrastructure Modernization (2018).
Class of 2022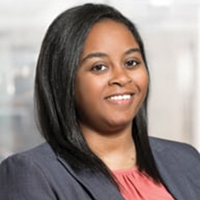 Heather Ripley (BBA '06, MAcc '06)
Partner, Alston & Bird
Heather Ripley is a partner in Alston & Bird's Federal & International Tax Group and a member of the firm's REITs and Real Estate Funds tax team in New York City. She counsels U.S. and foreign business entities and high-net-worth individuals on tax-efficient structuring for their U.S. and cross-border investments and activities. She has advised various charitable and nonprofit organizations on incorporation, tax exemption applications and restrictions, and other tax issues, as well as providing volunteer income tax assistance for low-income individuals. She has been identified as "One to Watch" by The Best Lawyers in America in Tax Law and is a frequent speaker at tax conferences and writes regularly about international tax developments. Heather earned her JD at Harvard Law School. When not lawyering, Heather is a professional artist. Visitors to UGA can see Terrell, a bulldog she designed and painted for the admissions office, and in 2015 her artwork was displayed in the White House. Heather also volunteers with the Read Ahead mentoring program and CityMeals on Wheels in New York. In addition to serving on the Terry Alumni Board, Heather is on the board of Volunteers of Legal Services, an organization providing pro bono services to New Yorkers, and the executive committee of the young patrons' program of Storm King Art Center.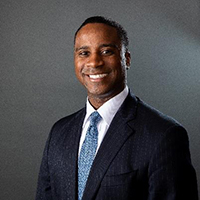 Christian Robinson (BBA '04)
Senior VP, Truist Wealth
Christian Robinson serves as executive director and banker in the Charlotte office of JP Morgan Private Bank, a bank he has worked for since 2011. He manages relationships with high net-worth individuals and families and delivers financial advice across investments, credit and liquidity needs, banking, fiduciary, and estate planning. From 2011 to 2017 he served as a hedge fund due diligence specialist covering event-driven and diversified strategies for the private bank platform which oversees approximately $28 billion in hedge fund assets. He previously worked within Neuberger Berman and Lehman Brothers. He earned an MBA from the Kenan‐Flagler business school at the University of North Carolina in Chapel Hill and serves on the Central Piedmont Community College Foundation board of directors, University of North Carolina Board of Visitors, Sugar Creek Charter School board of directors, and University of Georgia Alumni Association Board.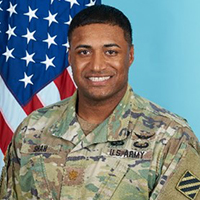 Brandon A. Shah (MBA '18)
Director of Operations, 3rd Combat Aviation Brigade, US Army
Brandon A. Shah is a Major in the United States Army and the director of operations for the 3rd Combat Aviation Brigade in Savannah. He is responsible for mission execution of brigade and subsidiary elements across eight different military-manned and unmanned aircraft design series and oversees an annual flying hour budget totaling $63 million. He is also responsible for the operational employment and training of approximately 2,700 personnel and assets totaling more than $2.4 billion in aircraft and related support equipment. He attended Army University's Command and General Staff College and simultaneously earned a master's in engineering in project management from the University of Kansas. He has also served as an aviation maintenance manager working with Boeing, Sikorsky, and Lockheed Martin engineer and maintenance representatives on scheduled and unscheduled maintenance, managing seven production lines, production control, quality assurance, and aviation maintenance teams across Europe. He has served as a military leader since 2002, and his career consists of multiple deployments, including Iraq and Afghanistan. He graduated with a BS from Old Dominion University and serves on UGA's Center of International Business Advisory Board and Army Aviation Association Board of Trustees – Savannah Chapter.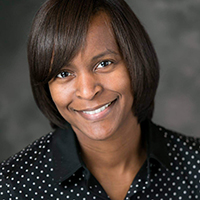 Tina Taylor (BBA '03, MAcc '05)
EY, Tax Partner, Private Client Services
For more than 14 years Tina Taylor has worked with EY, now serving as the co-leader of the Houston office's Private Client Services team. She leads our tax professionals in their efforts to provide exceptional client service and build a better working world for the firm's people, clients, profession and community. She has significant involvement with EY's Gulf Coast Area Entrepreneur of the Year program, which honors and recognizes growing entrepreneurial founders and their executive teams. Her primary focus and experience with the EY include advising private businesses and their owners on how to grow and preserve wealth while in turn dealing with complex tax issues, transactions and investments. She was recognized in 2019 as UGA's 40 under 40 for her efforts in developing a scholarship program for the students at her former high school. She was also selected as a mentor in the Emerge 2020 Program, which connects high school seniors with experienced Houston-area professionals who help support them with their personal growth and expose them to new cultural, culinary and educational experiences that they would otherwise not have access to.
Class of 2021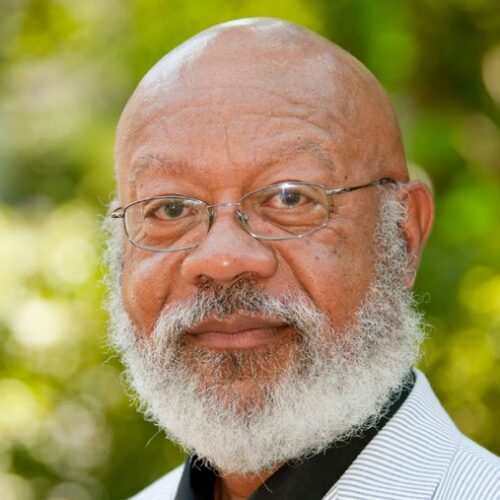 Dr. Harold Black (BBA '66)
Professor Emeritus, University of Tennessee
Dr. Harold Black enrolled at UGA in 1962, the fourth African American student and the first African American male freshman to attend the university. He earned a BBA in economics, then went on to receive master's and PhD degrees from the Ohio State University. During his career, he served on the faculties of the University of Florida, the University of North Carolina, Howard University, and American University, culminating at the University of Tennessee. Dr. Black received numerous awards for his teaching and research, as well as honors from the U.S. Treasury Department, National Credit Union Administration, and a Distinguished Alumni Award from UGA in 1986.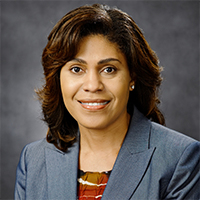 Angela Tolliver, (BBA '92, MBA '14)
Engineering Data Governance Leader, Cox Communications
A financial authority specializing in technical accounting and accounting research, George Azih has served as an auditor for banks, insurance companies, and brokerage firms. Before founding LeaseQuery, he performed research and technical accounting for a Fortune 500 company. A leading expert on lease accounting, Azih has been quoted in Bloomberg multiple times and spoken to numerous groups, including the Georgia Society of CPAs, Institute of Management Accountants, Financial Executives International, Technology Association of Georgia, CoreNet Global Summit, and the Accounting and Financial Women's Alliance.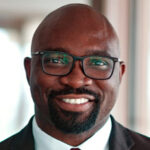 George Azih (BBA '03)
Founder & CEO, LeaseQuery
A financial authority specializing in technical accounting and accounting research, George Azih has served as an auditor for banks, insurance companies, and brokerage firms. Before founding LeaseQuery, he performed research and technical accounting for a Fortune 500 company. A leading expert on lease accounting, Azih has been quoted in Bloomberg multiple times and spoken to numerous groups, including the Georgia Society of CPAs, Institute of Management Accountants, Financial Executives International, Technology Association of Georgia, CoreNet Global Summit, and the Accounting and Financial Women's Alliance.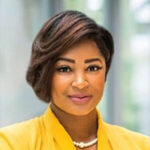 Kiana Morris (MBA '14, CMCP)
Director, Office of Planning, Budget and Legislation, Centers for Disease Control and Prevention
As one of the CDC's senior leaders, Kiana Morris serves as the acting director for the Office of Planning, Budget and Legislation in the National Center for Health Statistics, where she leads strategic planning initiatives. In this role, she also serves as the associate director for policy and provides expert advice to the NCHS director on policy development and implementation. She also coordinates evaluation efforts, external stakeholder engagements, and leads preparation for briefs and testimony to Congress. Morris received the Young Government Leaders' "40 Under 40" award in 2018 for her leadership as a public servant and was named a "40 Under 40" honoree by UGA in 2020.
Class of 2020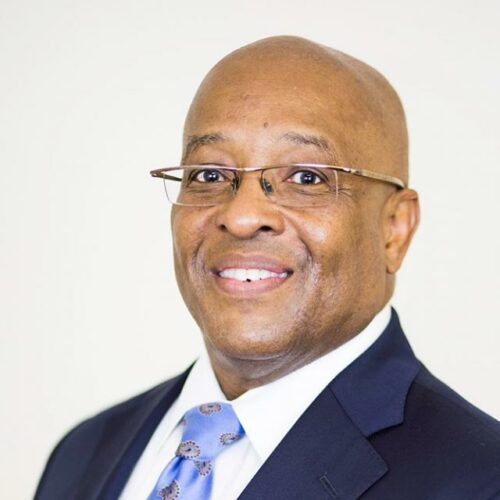 James C. Jackson
James is a former Senior Financial Services Executive with extensive experience in several aspects of banking, including distribution, strategic planning, sales management, process improvement, corporate integrations, and customer experience.

James began his career as a credit analyst and since then has held progressively responsible roles in two of the nation's top financial institutions, Bank of America and Capital One. At Capital One, James was the Executive Vice President (EVP) for North America Branch Distribution (1,000 bank network) and the Mid-Atlantic Market President (Washington, DC MSA). Prior to Capital One, James served in EVP leadership roles at Bank of America in several businesses, including Premier Banking & Investments, Home Lending and Retail & Business Banking. Also, he served as President of the Virginia Bank, where he led the state-wide transition from NationsBank to Bank of America.

Most recently, James was the Sales EVP for Credit Services and Decision Analytics at Experian North America. He led the largest business to business (B2B) sales organization, representing ~50% of revenue in North America. Also, James was responsible for leading sales transformation and implementing new go-to-market client coverage models. James earned a bachelor's degree in accounting from the University of Georgia and an MBA from the University of North Carolina-Chapel Hill (Kenan Flagler). He is a CPA and has a Six Sigma Green Belt Certification.

James is a member of The UGA Board of Visitors, The UNC Kenan-Flagler Board of Advisors, Alpha Phi Alpha Fraternity, and The Park Church. He is the founding and current Board Chair of The Park Community Development Corporation, focused on Affordable Housing, Workforce Development, and Healthy Living. James and his wife of 35 years, Nina, reside in Charlotte North Carolina.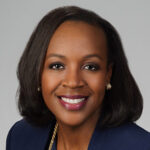 Rachel Perry
Rachel Perry is the resident managing director for the Aon Atlanta office. She provides strategic direction and growth of the office, talent recruitment and development and ensuring that Aon delivers on its service commitments to our clients. She also works closely with the team to bring the depth of Aon's commercial risk, health, retirement and human capital solutions to clients.

Rachel joined Aon in September 2012 as the southeast region casualty leader and became the account executive practice leader in January 2017. As the account executive practice leader, Rachel led a team of account executives focused on strategic advice, client service, and growth. In January 2018, Rachel became the resident managing director for the Atlanta office. Before moving to Aon, Rachel spent 19 years with Marsh in their New York, New Jersey, and Atlanta offices. While at Marsh, she held several roles including senior client executive, Atlanta casualty practice leader and senior casualty advisor for large multi-national firms responsible for overall program design, marketing strategy and negotiations of their insurance programs.

Rachel's expertise includes working with multinational clients with complex program designs, including captives and integrated risk in various industries, including retail/wholesale, food and beverage, chemicals, manufacturing, and higher education. Rachel earned her MBA from Coles Business School at Kennesaw State University. She received her Bachelor in Business Administration, majoring in risk management and insurance, from the University of Georgia.

She also holds a Chartered Property Casualty Underwriters (CPCU) designation. She is an advocate with the OnBoard organization and she sits on the University of Georgia Terry College of Business Alumni Board.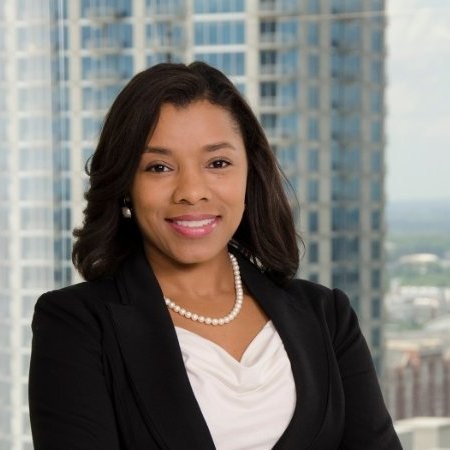 Dasha Walker
Dasha is a partner in the Atlanta office of KPMG. She has over 18 years of experience providing financial statement audit services to a variety of higher education, not-for-profit, real estate, and industrial manufacturing clients. Dasha has experience with accounting and reporting frameworks, such as US GAAP and IFRS. She regularly interacts with KPMG offices abroad to coordinate the audit of international groups.
Dasha earned her bachelor degree in business administration with a major of accounting and masters in accountancy with a concentration in auditing and auditing information systems from The University of Georgia. She is a Certified Public Accountant and a member of the American Institute of Certified Public Accountants, Georgia Society of Certified Public Accountants, and the National Association of Black Accountants. Dasha serves as a KPMG national instructor, chair of the KPMG Atlanta African American Network, and is on the board of Synchronicity Theatre and Keris Kares.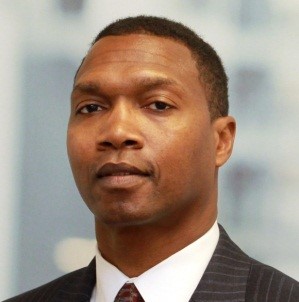 Chris Ward
Chris is a Principal with Ernst & Young LLP and serves as the National Leader for Markets and Industry Sectors for the People Advisory Services (PAS) practice. He previously served as the PAS Southeast Region leader; and the Americas sector leader for both consumer products and retail (CPR) and government and public service. With more than 25 years of management consulting experience, Chris has advised C-level executives at Fortune 1000 companies, public sector organizations, and higher education institutions.

Chris works with many organizations in the areas of leadership transitions, business readiness, and workforce empowerment programs. He is a deep practitioner in digital strategy, organizational change management, employee engagement, business integration, customer experience, organizational design and new operating and governance models.

Chris has served clients including:

– Consumer products and retail companies
– U.S. federal, state and local government organizations
– Media and entertainment companies
– Diversified logistics, transportation, and digital and innovation companies
– U.S. based higher education institutions and U.S. public transit authority
– Financial services organizations (including capital markets, banking, and insurance)
– International companies based in Europe, Asia-Pacific, and Latin America

Chris started his career with a leading management consulting, technology, and outsourcing company. He focused on large-scale transformation initiatives and served several Fortune 500 and large public sector clients.

In 2007, Chris founded CharAge Group, Inc. (CGI), a management consulting, corporate services, and product innovation company. CGI's primary offering is Character PerformanceTM, a unique offering that allows CGI to deliver character-based and performance-driven solutions to corporate, retail and public sector organizations; as well as to teams and individuals.

He was recognized and listed on the "Top 50 under 50 Executives" list by a national business magazine. The magazine described the 50 individuals on the list as "exceptional executives who have reached the pinnacle of success within the highly competitive corporate environment."

Chris is an Advisory Council member for the Salvation Army's Boys & Girls Clubs of Greater Atlanta. A native of Atlanta, Georgia, Chris holds a Master of Education degree from Harvard University in Human Development and Psychology. He also holds a Master of Business Administration (MBA) and a B.B.A. in Management Science from the University of Georgia.