When Jake Goodman took the TEDxUGA stage on March 31 and stepped onto the iconic red circle, he felt a decade-long dream become a full-circle moment.
Looking into the audience, he remembered attending the inaugural TEDxUGA event in 2013 — as an undergraduate at the University of Georgia with plans to become a doctor and someday develop a message worthy of a TED talk.
As the first speaker at this year's event at the Morton Theatre in downtown Athens, Goodman (BSA '15, MBA '20) worked all his interests into his talk. He spoke about the archaic medical training system in the U.S., the long hours endured by resident doctors, the need for improved access to mental health services for medical students, and the necessary steps to improve patient care.
In a brief but gripping 18 minutes, Goodman also shared his own mental health struggles during medical training and the moment that launched his advocacy work on TikTok while enrolled at Terry in the dual MD/MBA program. Now with more than 2 million followers across his social media channels and media appearances on NBC, Today.com and in Men's Health, he considers it a privilege to speak with people worldwide about their mental health concerns and what they can do to seek care.
These "ideas worth spreading," as the TED slogan goes, also led to Goodman being named to UGA's 40 Under 40 last year.
"If someone had told me as an 18-year-old walking onto campus for the first time that I would become a doctor, come back to UGA for my MBA, get inducted into 40 Under 40 and then go on to give a TEDxUGA speech, I would have fainted," he says. "What makes me even more proud is that I was selected for these opportunities due to my advocacy work around mental health, and that's one of the biggest honors of my life."
Partnering medicine and business
Goodman has wanted to be a doctor for as long as he can remember. He points to his childhood pediatrician as inspiration, recalling that during each visit, he was taken care of, his worries were alleviated, and he felt safe. Those moments sparked a desire to choose medicine.
As a pre-med undergraduate studying biological sciences at UGA, Goodman found his focus turning to mental health. A friend died by suicide, and Goodman wished he had the understanding at the time to recognize what his friend was feeling and talk with him about it. The experience opened his eyes to the worst-case scenario that could occur with mental health issues, and he wanted to learn how he could help others in the future.
Later, during one of his medical school rotations, Goodman worked in an outpatient substance use disorder clinic serving patients with opioid use disorder. He saw people seek help at the lowest point in their lives — sometimes after losing jobs and falling out of touch with family members — and find recovery with the help of a team of psychiatrists, nurses, social workers and mental health professionals.
"They were able to turn their lives around," he says. "To meet people at rock bottom and help them rebuild their lives is the dream job for me."
While in medical school, Goodman realized he'd like to reach more people by working outside the traditional hospital setting, whether that meant correcting deficiencies in the health care system, improving access to care or eliminating barriers for people to afford health care. To do that, he knew he needed additional training — and a business degree would equip him with the skills to tackle complex challenges. When he learned about the dual MD/MBA option at Terry, it was a "no-brainer."
"The program gave me the confidence to launch an idea and move forward with it," he says. "It gave me the building blocks to take the necessary steps to grow, and when I didn't know something, I could bring in somebody with that expertise and learn from them."
During his first semester in the program, Goodman met fellow student Sam Hinson (MBA '21), now a program manager in the revenue protection unit at Delta Air Lines. They quickly became good friends and roommates, and Hinson was with Goodman during the early days of launching his social media platform at the beginning of the pandemic.
"Even back then, you could see that he had this drive to share knowledge," Hinson says. "Jake is a fantastic representation of someone who is a lifelong learner and who aims to share his experiences and the lessons he's learned, both professionally and personally."
Although Goodman lives in Miami, where he is a resident physician in psychiatry, and Hinson lives in Atlanta, the two remain close friends. Hinson participated in Goodman's wedding in May 2022 and sat with Goodman's family in the TEDxUGA audience in March.
"No matter what you do in life or what your professional interests are, there's something you can learn from Jake, simply by the way he teaches and communicates with people," Hinson says. "The term 'influencer' gets thrown around in a joking way, but if there's one person who can have a good influence on you, that's Dr. Jake Goodman."
Growing social media for good
One of Goodman's most memorable and pivotal social media moments came in December 2021, when he posted an image of himself facing the camera in blue scrubs, a light blue pill resting on his outstretched tongue. He spoke about the stigma around mental health challenges, both across society at large and among medical professionals in particular.
"I'm a physician who treats mental illness, and I take medication for my mental health. And by the way, I'm proud of it," he wrote. "Medications aren't for everyone, but they can be a powerful tool in combination with therapy and other self-care techniques to treat mental health issues."
Since then, Goodman has inspired other doctors to post about their personal experiences and mental health expertise on social media. In May, he led a panel at the American Psychiatric Association's annual conference to discuss how mental health professionals can use social media to advocate for their patients, and he hopes to speak at more medical conferences to spark thoughtful conversations around social media use, mental health stigma and better solutions in health care.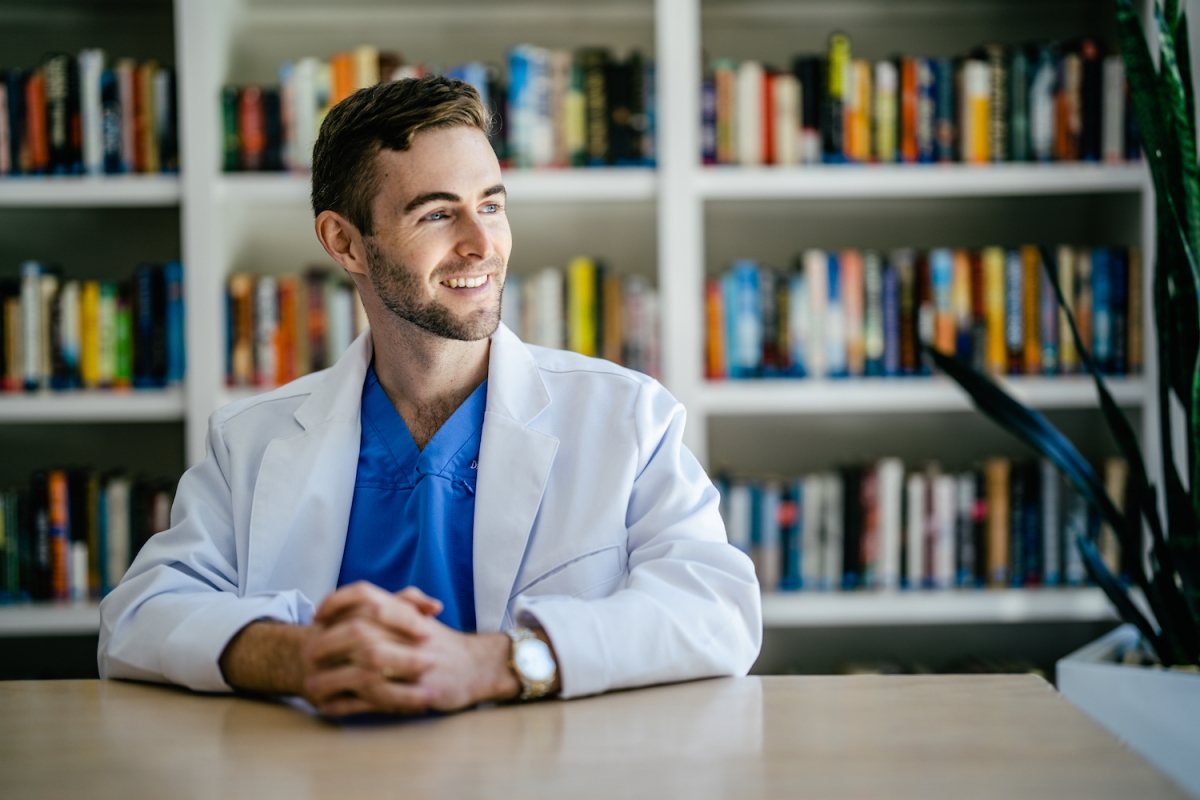 Goodman encourages his fellow medical professionals on a personal level. Anton Lima, a first-year psychiatry resident at the University of Miami, worked alongside Goodman during rotations last fall and saw the potential of his own social media presence after participating in one of Goodman's videos. Lima, who hails from Brazil, is now creating video content in Portuguese to reach Brazilians — both at home and in southern Florida.
"Immigrants face many hardships when they move to a different country and away from their families," Lima says. "I talk about the daily stressors, anxiety and depression they may face when adapting to a new country and culture. I want people to understand that this is normal and part of life."
Lima also plans to team up with a psychiatrist in Brazil to write an e-book about ways to handle anxiety in the modern world. He credits Goodman with building the self-confidence to see that he could be a positive influence on others — the idea that he could "be the Jake Goodman for the Brazilian community."
"Jake faces his own internal battles, and being able to do residency and create content and do everything he does is impressive," Lima says. "You might think that he wouldn't have enough time to be dedicated to the residency program, but it's the opposite. He's a role model as both a content creator and a resident and is always very caring with his patients."
This summer, Goodman will complete his second year of residency and transition into his third, which includes more outpatient training. He ultimately wants to work in an outpatient setting, so he's particularly excited to see what the next two years add to his lifelong love of learning.
And, of course, he plans to continue his mental health advocacy, tirelessly spreading a message of hope.
"I hope to continue to speak with teens and young adults about mental health and teach them what I wish I had known in high school and college," he says. "There are so many tools we can utilize to improve our mental health, and I want to pass that on to the next generation."