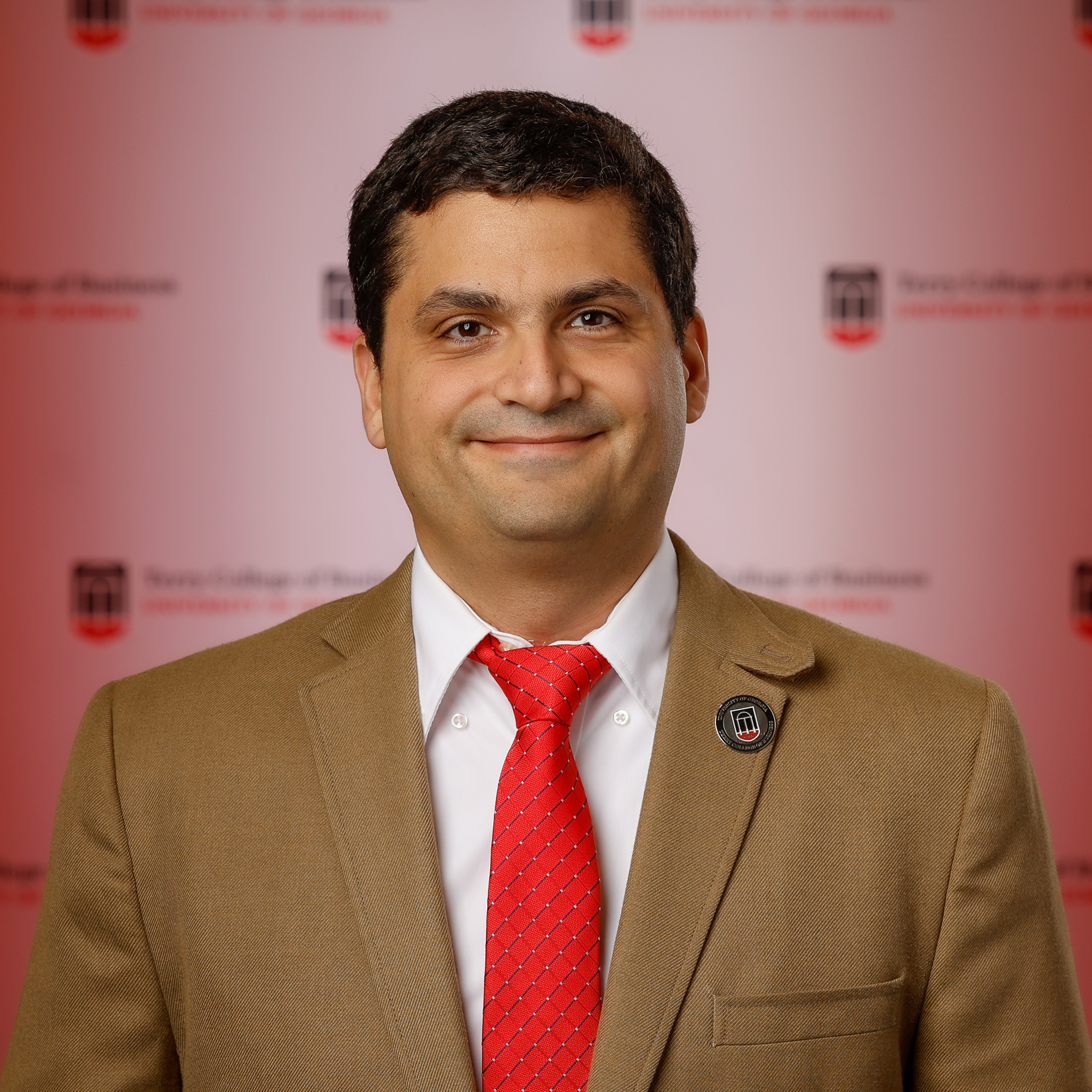 Hani Safadi
Associate Professor

,

Department of Management Information Systems
Biography
Hani Safadi is Associate professor at Terry College of Business, University of Georgia. He is interested in online communities, social media, health IT, information systems development, and the application of computational techniques in management research. His research is published in outlets such as MIS Quarterly where he serves as Associate Editor, Information Systems Research, Organization Science, Journal of the Association for Information Systems, and Journal of Medical Internet Research.
Education
PhD

,

Business/MIS

,

McGill University

,

2015

MS

,

Computer Science

,

McGill University

,

2008

BA

,

Computer Engineering

,

Damascus University

,

2006
Research Interests
Computational linguistics
Social network analysis
Mixed-methods design
HealthCare IT
Open-source organizing
Social media
Online communities
Publications
Journal Articles
The Impact of Feature Exploration and Exploitation on the Evolution and Survival of Mobile Applications, Journal of the Association for Information Systems, Forthcoming
Hani Safadi. Balancing Affordances and Constraints: Designing Enterprise Social Media for Effective Organizational Knowledge Work. MIS Quarterly. (forthcoming)
Shaila Miranda, Nicholas Berente, Stefan Seidel, Hani Safadi, and Andrew Burton-Jones Computationally. 2022. Intensive Theory Construction: A Primer for Authors and Reviewers. MIS Quarterly, 46(2).
Hani Safadi and Richard Watson: Knowledge Monopolies and the Innovation Divide: A Governance Perspective. Information and Organization. (2023)
Amrit Tiwana and Hani Safadi. Atrophy in Aging Systems: Evidence, Dynamics, and Antidote. Information Systems Research. (2023)
Hani Safadi, Steven Johnson and Samer Faraj. 2020. Who Contributes Knowledge? Core-Periphery Tension in Online Innovation Communities. Organization Science, 32(3).
Tanner Skousen, Hani Safadi, Colleen Young, Elena Karahanna, Sami Safadi, and Fouad Chebib. "Successful Moderation in Online Patient Communities: Inductive Case Study." Journal of medical Internet research 22, no. 3 (2020): e15983.
Nicholas Berente, Stefan Seidel, Hani Safadi. Data-Driven Computationally-Intensive Theory Development. Information Systems Research , 2019.
Emmanuelle Vaast, Hani Safadi, Bogdan Negoita and Liette Lapointe. 2018. Social Media Affordances for Connective Action – An Examination of Microblogging Use During the Gulf of Mexico Oil Spill. MIS Quarterly, 41(4).
Steven Johnson, Hani Safadi and Samer Faraj. 2015. The Emergence of Online Community Leadership. Information Systems Research,26(1):165-187.
Hani Safadi, David Chan, Martin Dawes, Mark Roper and Samer Faraj. 2015. Open-source health information technology: A case study of electronic medical records. Health Policy And Technology,4(1):14-28.
Book Chapters
One Picture to Study One Thousand Words: Visualization for Qualitative Research in the Age of Digitalization, Cambridge University Press Handbook of Qualitative Research in the Age of Digitalisation (2023)
Editorial Appointments
Associate Editor

,

MIS Quarterly

,

2021

–present

Review Board

,

IEEE Transactions on Engineering Management

,

2016

–present
Awards, Honors, and Recognition
First Runner-Up Best Published Paper Award: Who Contributes Knowledge? Core-Periphery Tension in Online Innovation Communities, Annual Meeting of the Academy of Management, 2022
Best Theory Paper: The Effect of Bots on Human Interaction in Online Communities, International Conference on Information Systems, 2021
AIS Distinguished Member, December 2020 Cohort, Association for Information Systems, 2020
Best Theory Paper: Open Communities and Formal Organizations: A Symbiosis View, International Conference on Information Systems, 2020
Best Publication of 2019: Data-Driven Computationally-Intensive Theory Development, International Conference on Information Systems, 2020
Best Information Systems Research Paper of 2019: Data-Driven Computationally-Intensive Theory Development, Information Systems Research, 2020
Best Associate Editor, International Conference on Information Systems, 2019
Best Theory Paper: Tension Resolution and Sustaining Knowledge Flows in Online Communities, International Conference on Information Systems, 2019
Best Division Paper Award: Who Contributes Knowledge? Embeddedness and Marginality in Online Communities, Annual Meeting of the Academy of Management, 2018
Best Published 2015 Paper Award: The Emergence of Online Community Leadership, Annual Meeting of the Academy of Management, 2016
Second Runner-Up Best Dissertation Award, International Conference on Information Systems, 2015
Best Conference Paper Award: Grassroots versus Established Actors' Framing of a Crisis: Tweeting the Oil Spill, Annual Meeting of the Academy of Management, 2014
Excellence in Teaching Award, Desautels Faculty of Management, 2013
Service
University of Georgia, Diversity Advisory Council, 2017 – 2023, University
Prior Professional Positions
Research Collaborator

,

Mayo Clinic

,

2016-2021

Visiting Assistant Professor

,

Stevens Institute of Technology

,

2014-2015