While a student at the University of Georgia, Tope Awotona went door to door selling home alarm systems.
The Calendly CEO and founder remembers selling three systems on his first day on the job, making $500. But his fast start didn't last — he went the rest of the week without another sale. It was a tough way to make money, but it taught Awotona an important lesson about perseverance and learning from failure.
"I learned a lot from selling alarm systems," Awotona (BBA '02) told students during his Terry Leadership Speaker Series lecture at the UGA Chapel on April 11. "I learned a lot about rejection because there is no more humbling job than knocking on people's doors and having them tell you no.
"I also learned success can be distilled down to an equation. If I knock on x doors, it's going to yield me y dollars, and I developed a more analytical mindset. Those successes may not be distributed evenly, but I understand that I'll average a sale for every 20 doors I knock on."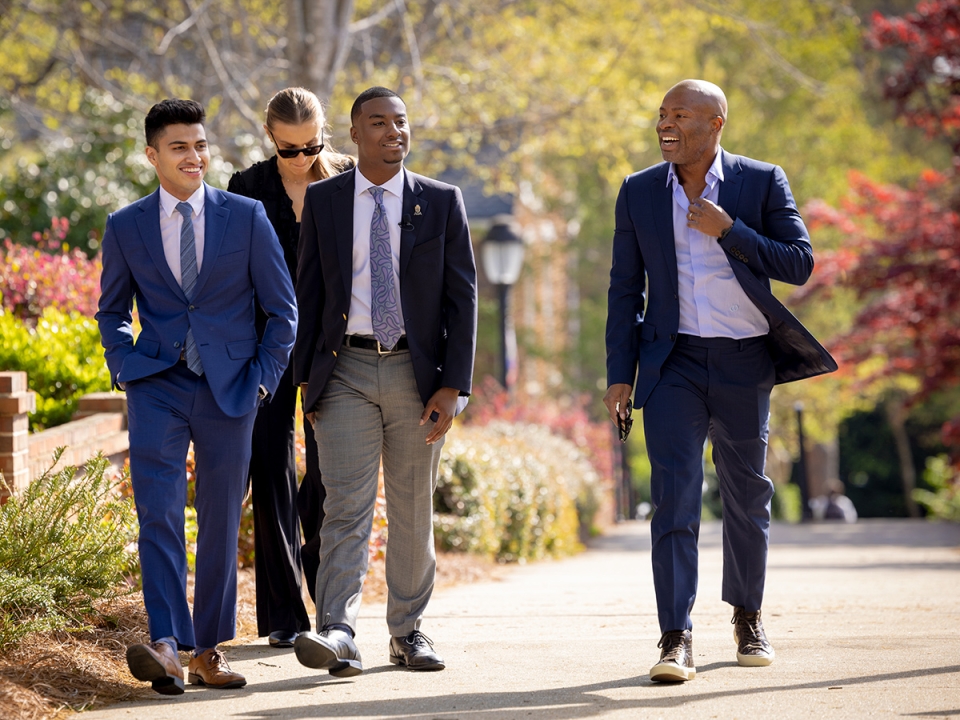 All of Awotona's experiences — from door-to-door cold calling to helping startup companies' market software to launching three failed companies — informed his decision to launch Calendly in 2013. Born to solve the personal pain points he discovered while scheduling meetings and demonstrations with clients, Calendly uses contacts' calendar information to quickly find meeting times that work for all participants.
He emptied his 401K account to build the software, and while it was a risk, he said, it was a calculated and well-informed one. Today Calendly is worth $3 billion, and just this month, Awotona was featured in Forbes magazine's billionaire's issue.
"When I discovered this challenge with scheduling, I went from not wanting to start a business to not being able to stop thinking about starting a business," he told students. "It dominated my thinking and my thoughts. I spent six months trying to understand the problem and the space. Who were the competitors? What did people like about them? What did people not like about them?
"By the time I was finished with the process, I had a crystal-clear idea of what needed to be built."
Awotona, whose family immigrated from Nigeria to Marietta in 1996, came to UGA in 1998 to study computer science.
"It was very gratifying to me to code, but it was incredibly monotonous and repetitive," Awotona said. "I knew that I loved tech, and I knew that was the way the world was headed, but I wasn't sure if that's what I wanted to do."
His time selling alarm systems finally sealed the decision. He was too much of an extrovert for computer science, and he changed his major to management information systems.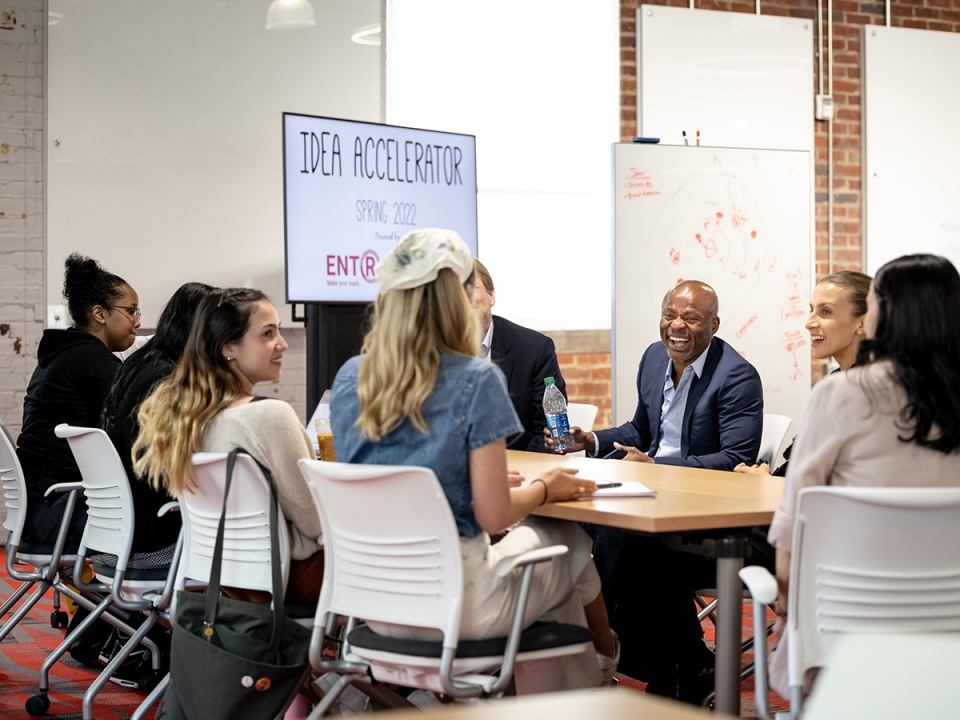 Awotona told student to stretch themselves, but there's no reason to take uninformed risks.
"Whatever it is that you do, make sure you go into it with your eyes wide open," he said. "I mentioned that I started three businesses that failed. The reason they failed is that I had a lot of confirmation bias when I was doing my research into whether they would work.
"Know what you're getting yourself into, so you can mitigate your risk and avoid unnecessary pitfalls."