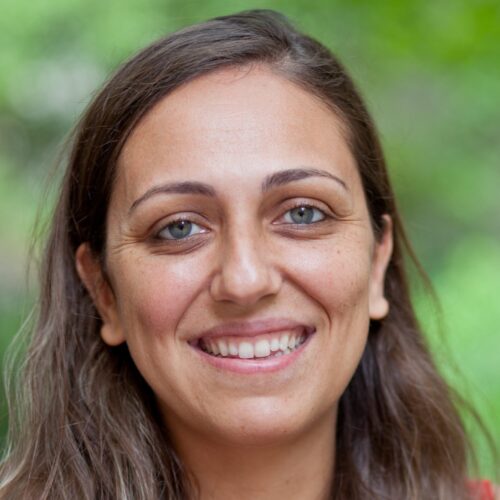 Carolina Alves de Lima Salge
Assistant Professor

,

Department of Management Information Systems
Biography
Carolina A. de Lima Salge is an Assistant Professor of Management Information Systems at the Terry College of Business. Her research focuses on generating insights to improve social interactions with computer algorithms in ethical ways. Specifically, she is interested in (1) illustrating how bots disseminate information in online social networks; (2) generating theory on the use of conversational agents in an increasingly hyper-private web browsing environment; and (3) understanding and disentangling the complex nature of algorithmic transparency.
Dr. Salge has received awards for teaching and her research has been quoted by media outlets such as The Irish Times.
She is fluent in Portuguese and Spanish.
Education
PhD

,

Management Information Systems

,

University of Georgia

,

2018

MA

,

Clemson University

,

2010

BA

,

Clemson University

,

2008
Research Interests
Data science
Computational & methods
Conversational & agents
Social bots
Ethics
Publications
Journal Articles
Möhlmann, M., Salge, C., & Marabelli, M. (Accepted May 19, 2022). Algorithm Sensemaking: How London Drivers are Solving the Tricky Puzzle of Uber's Algorithmic Management. Forthcoming at Journal of AIS.
Berente, N., Salge, C., Mallampalli, V. K., & Park, K. 2022. (Accepted April 16, 2022). Rethinking Project Escalation: An Institutional Perspective on the Persistence of Failing Large-Scale Information System Projects. Journal of Management Information Systems, 39 (3), 640-672.
Cohen, J., Lisa, G., Montague, N., Salge, C., & Wayne, J. 2022. (Accepted January 13, 2022). The Effects of Audit Guidance on Auditor's Evaluations of Fair Value Estimates. AUDITING: A Journal of Practice & Theory, 41 (4): 85–105.
Salge, C., Karahanna, E., & Thatcher, J. 2022. (Accepted February 23, 2021). Algorithmic Processes of Social Alertness and Social Transmission: How Bots Disseminate Information on Twitter. MIS Quarterly, 46 (1), 229-259.
Criado MF, Sá e Silva M, Lee DH, Salge C., Spackman E, Donis R, Wan X-F, Swayne DE. 2020 (Accepted September 22, 2020). Cross-protection by inactivated H5 prepandemic vaccine seed strains against diverse goose/Guangdong lineage H5N1 highly pathogenic avian influenza viruses. J Virol 94:e00720-20. https://doi.org/10.1128/JVI.00720-20.
Thomaz, F., Salge, C., Karahanna, E., & Hulland, J. 2020. (Accepted September 24, 2019). Learning From the Dark Web: Leveraging Conversational Agents in the Era of Hyper-Privacy to Enhance Marketing. Journal of the Academy of Marketing Science.
Byon, K. K., Salge, C., Baker, T. A., & Jones, C. W. 2020 (Accepted August 29, 2019). Team identification and negotiation: A mediated-moderation model of constraints, motivation, and sport consumption. Sport Marketing Quarterly.
Salge, C. & Karahanna, E. 2018 (Accepted December 8, 2016). Protesting Corruption on Twitter: Is It a Bot or Is It a Person? Academy of Management Discoveries, 4(1), 32-49.
Salge, C. & Berente, N. 2017 (Accepted December 28, 2016). Is That Social Bot Behaving Unethically? Communications of the ACM: Vol. 60, Issue 9.
Salge, C., Byon, K. K., & Baker, T. A. 2015 (Accepted September 21, 2014). The Limiting Use of Meta-Analysis in Sport Management: A Case of Constraints and Sport Leisure Consumption. Journal of Contemporary Athletics: Vol. 9, Issue 2.
Salge, C. 2010. The ATP World Tour: How Do Prize Structure and Game Format Affect the Outcome of a Match? All Theses. 803.
Awards, Honors, and Recognition
Outstanding Teaching Award, Wake Forest University
Dissertation Completion Award, University of Georgia
Outstanding Teaching Assistant Award, University of Georgia
Service
Tenure-Track Faculty Position, Recruiting Committee
Social media director for MIS Quarterly
Social events co-chair for ICIS 2020
Article reviewer for:
MIS Quarterly
Information Systems Research
Journal of Management Information Systems
Management Science
Information and Organization
IEEE Systems Journal
International Conference on Information Systems (ICIS)
Hawaii International Conference on System Sciences (HICSS)
European Conference on Information Systems (ECIS)
Academy of Management Conference (AOM)
Conference Program Associate Editor
International Conference on Information Systems
European Conference on Information Systems
Prior Professional Positions
Varsity Tennis (Awarded Athletic Scholarship)

,

Clemson University

,

All-American Award (Ranked as #5 in final NCAA poll in doubles)

,

Most Valuable Player of ACC Tournament and Clemson Women's Tennis

,

Participant in NCAA Final Four

,