A town's motto says a lot about a place.
Atlanta is a "City Too Busy to Hate," while Athens is "Life Unleashed." And now, with the help of a dedicated student team from the Terry College's Institute for Leadership Advancement (ILA), Georgia's Colquitt County is "Where Life Grows."
Colquitt County is nestled in southwest Georgia and is the state's most agriculturally productive county. While agriculture is king, county leaders seek to market the area to new residents and businesses.
Colquitt County board members turned to UGA's Carl Vinson Institute of Government to build a slogan celebrating the area's agricultural heritage and positive attitude toward growth. Once "Where Life Grows" was adopted and rolled out, the ILA students' mission was to ensure the brand was shared throughout the community and beyond.
"We wanted to get the brand to the next step," said Grace Hopkins, a marketing major and ILA Leonard Leadership Scholar, about the burgeoning slogan. "The target audience is young professionals, remote workers, families and retirees. We wanted to find the best ways to reach them."
The ILA students' brand implementation team took on the challenge as part of a year-long service-learning project in their organizational leadership course. Team members came from a variety of majors and backgrounds, and each brought their strengths to the team.
The team of ILA Leonard Leadership Scholars — including Hopkins, management information systems (MIS) major Connor Koscevic, marketing major Kali Franz, finance and international business major Murphy Rief, finance and MIS major Nishant Patel and finance major Lior Granath — met with community members and conducted market research throughout the year. In October, team members attended Colquitt County's signature event — the Sunbelt Ag Expo — to gather more information about the people who call Colquitt County home.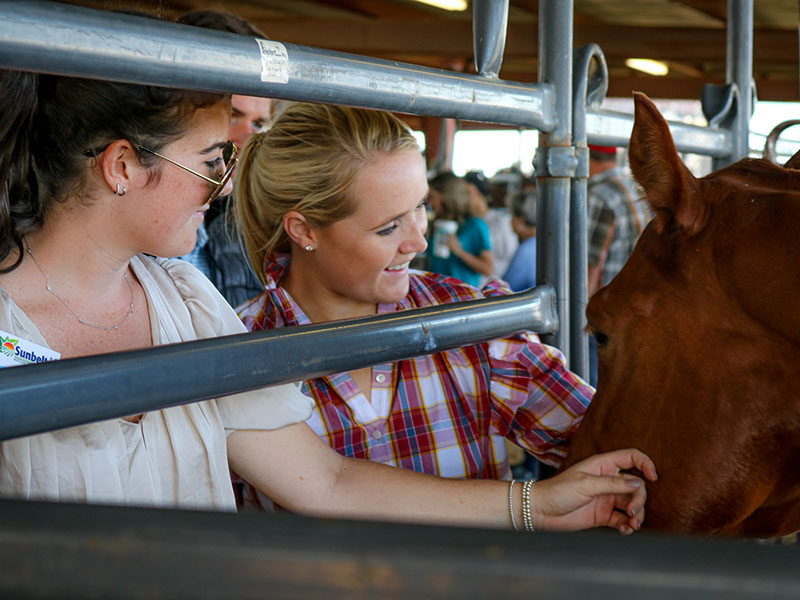 "It was a good insight for our team to see this community is very intertwined, and this brand means a lot to them," Franz said. "We had to recognize this brand is a representation of their community. It's not just a brand; it's the way they see their community."
The Expo offered the group a chance to see how its branding efforts were received.
"The public has seen the brand, but the Ag Expo is huge and draws farmers from all over the Southeast," Koscevic said. "It was a chance for the brand to be seen by people outside Colquitt County. When people walked away from the Ag Expo, we wanted them to not only think of the Expo but of Moultrie — think of Colquitt County and all of the opportunities."
Through conversations and site visits, the ILA students identified three areas where they could maximize the brand's impact.
They plan to use the branding to develop a visitors' guide for newcomers and a branding toolkit for Colquitt's smaller municipalities. They are also conducting market research to select billboard sites along the Intersate 75 corridor.
Sarah Adams, a UGA Archway Partnership faculty serving Colquitt County, worked as a conduit for the students, the community and the Vinson Institute development team. The students represent the population county leaders want to draw to Moultrie, she said, adding that their knowledge, dedication and perspective was invaluable to the project.
"If we're going to continue to tell our story and attract younger residents, we can't continue to use older methods," said Adams. "Archway was able to connect the community to the students with the skills and talents to help share this brand widely throughout the community and beyond."
The Archway Partnership is a unit of UGA Public Service and Outreach, created to empower communities to address long-standing and critical community and economic development needs. Archway Partnership communities have addressed issues related to economic development, education, workforce development, leadership, health and welfare, overall quality of life, and more.
The Institute for Leadership Advancement is a privately funded unit within the Terry College of Business that combines coursework with hands-on experience. Institute fellows and scholars are selected through an application process based on their demonstrated academic excellence and leadership capability. Students that complete the program are awarded a Certificate in Personal and Organizational Leadership.