When U.S. Army Maj. Chris King returns to class this fall to finish his MBA at the Terry College of Business, he'll also head back to Clarke Central High School to mentor the school's JROTC program.
King is no stranger to working with young people. He spent years as an Army basic training commander and instructor for junior officers, but his goal in working with Clarke Central JROTC cadets isn't to turn them into soldiers but build them into stronger leaders.
"It's an objectively good thing to have programs designed to prepare young people for their lives beyond high school," King said about the JROTC program. "Whether they join the military or not — and it's great if they do — they're going to be better citizens, better leaders. When they leave Clarke Central, whether staying in Athens, going to college, or starting a family — they'll be better because of this. I try to look at the bigger picture, and that is what this program is trying to do."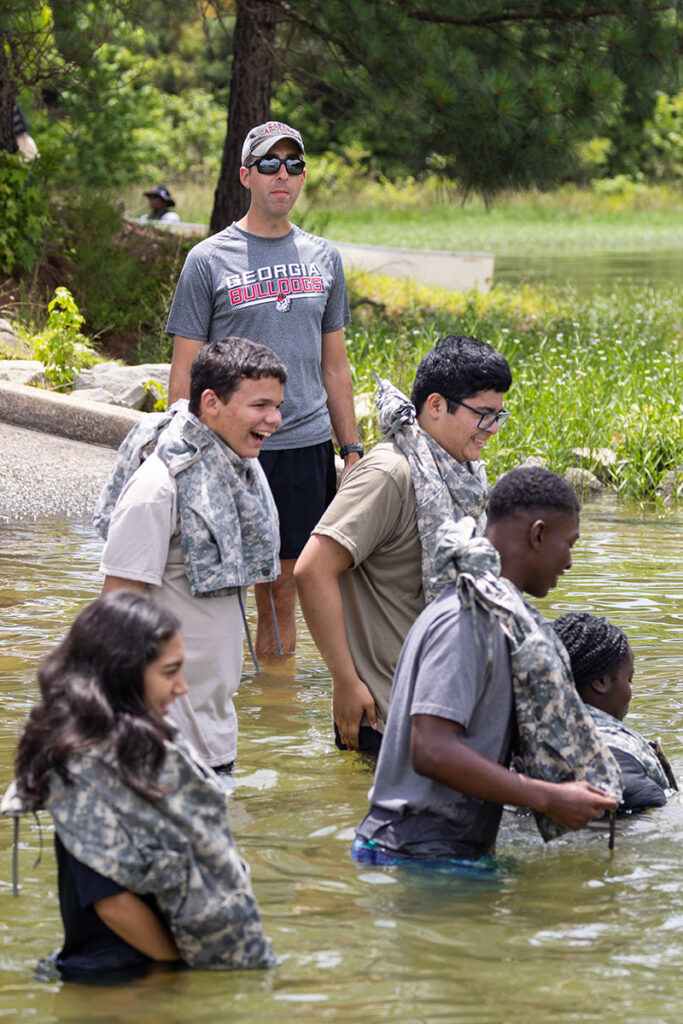 King started working with the JROTC cadets shortly after coming to Athens in the fall of 2022. He is the second active-duty Army officer to volunteer with the program through the Georgia MBA Non-Profit Board Fellows Program, which pairs Full-Time MBA students with Athens-area nonprofits.
King worked with Clarke Central JROTC instructors to present parts of the curriculum, lead physical training sessions, and work with cadet commanders to hone their leadership skills and solve problems.
"He listened to them, spoke to them verses speaking down to them, helped them develop better interpersonal and conflict resolution skills," said Lt. Col. David McMickle, who coordinated Clarke Central JROTC program for 16 years before retiring from teaching this summer. "You cannot fool high school students. They know if you care about them, their ideas, family and friends, and they knew he was there for them."
One of King's strengths is working with students to resolve team organization and morale issues. If one student complained they had more to do than other JROTC officers, he'd make them reason it out, McMickle said. King would say, "OK, if we moved this responsibility to this person, what would happen then?"
Having an outside person talk you through leadership struggles makes a difference, especially someone with your best interest at heart, McMickle said.
"I did give a class on the army officer life and how to become an officer, what's expected of you and what that could look like to expose them to options," King said. "It sparked questions, but my job in the program at Clarke Central was to bring and outside perspective and a younger set of eyes and ears."
For Michael Campbell, a 2023 Clarke Central graduate attending Louisiana State University in the fall, having King to bounce career plans and ideas off of was invaluable.
King participated in ROTC at East Carolina University in North Carolina and became a career Army officer. He returns to active duty as an officer after he graduates with his MBA in May. That's the same path Campbell wants to take.
"Sometimes you want that outside perspective to help guide you to where you want to go," Campbell said. "There's a lot of things you can only learn by talking to someone in the position you want to be in, right? Talking to him helped me find out things you can't look up on Google."
For Campbell and the other JROTC students, King's commitment to showing up every week and working with students made them trust the advice or guidance offered, he said.
After a year of mentoring and working together with students, King took on one more challenge — helping them prepare and participate in the JROTC Cadet Leadership Challenge — a four-day campout and survival course in Elbert County. From repelling walls to water survival, it was a fun and challenging way for King and the students to wrap up the year.
"Once I start something I tend to follow through in big way," King said. "The program itself is about improving the lives of young people and helping young people improve themselves, turning them into better citizens. I think that's a good thing. Once I learned what the mission was, I wanted to be a part of it in any way I could."