The UGA Entrepreneurship Blog
September 10, 2020
Stamp Series Vol. 11: Andrew Romanick
How Andrew Romanick optimized his use of Studio 225 and the Entrepreneurship Program to better his learning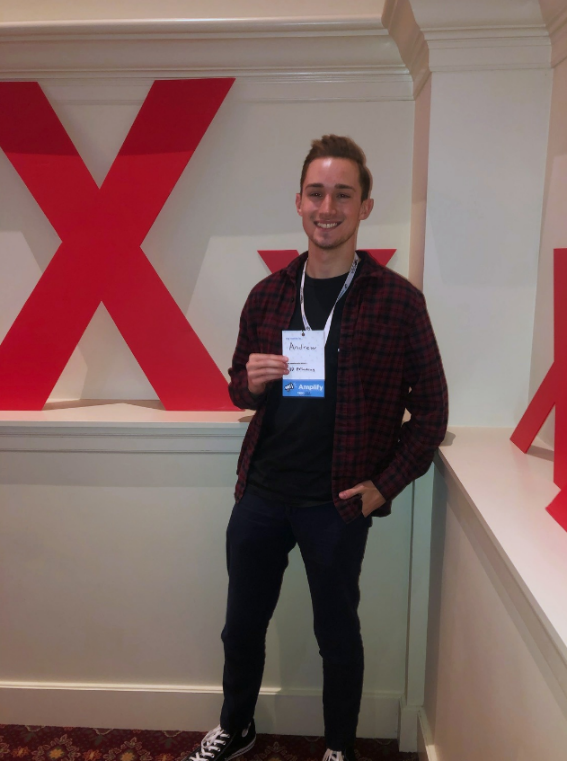 Andrew Romanick is a soon-to-be fifth-year mechanical engineering student from Ellijay, Georgia. For him, entrepreneurship and engineering have a lot in common. They are both about learning the skills and getting the tools to take your ideas and make them into something real. He has done this with his heavy involvement in the Entrepreneurship Program.
Andrew is in the Entrepreneurship Certificate Program. He has taken the Introduction to Entrepreneurship and the Entrepreneurial Finance classes. He has also taken some entrepreneurship elective classes, stating that Engineering Entrepreneurship and Product Development were the coolest.  According to him, these classes have given him a lot of confidence in a variety of business-related topics and taught him a lot of things he would not previously considered.
Andrew is also a student employee of the Entrepreneurship Program. You can often find him working in the Makerspace, which he says is the best part of Studio 225, with the free coffee being a close second. The Makerspace is a creative space in Studio 225 where our 3D printer and CNC Cutting Machine are kept. If any student is interested in using or learning about these machines, Andrew is the person you should reach out to.
For Andrew, the best resource of the Entrepreneurship Program is the people. He says he has met so many interesting people with intriguing ideas and he never knows where those connections might lead. He also really enjoys the Speaker Series. He likes that you can learn so much from their different experiences and the advice they give.
Andrew looks forward to students from more colleges getting involved in the program because entrepreneurship is applicable to every field, and the more people and perspectives you have, the cooler the things that can happen.
---
February 21, 2020
Stamp Series Vol. 10: Alex Breazu
How Launch Pad, SOE, and the Entrepreneurship Program came together to create an entrepreneurial community for Alex Breazu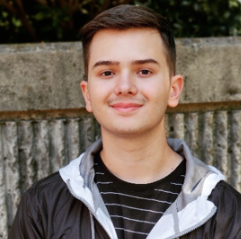 Alex Breazu is a first-year student from Buford, Georgia majoring in mechanical engineering. He wants to pursue entrepreneurship to follow in his parents' footsteps as entrepreneurs. He has been able to do that with the Entrepreneurship Program through Launch Pad and the Society of Entrepreneurs (SOE).
Alex describes Launch Pad as "a community where people take their goals and their backgrounds and combine them to bounce off one another and develop their own ideas and help other people develop theirs." He says it is very helpful to be surrounded by students wanting to pursue entrepreneurship with different ideas, backgrounds, and values. Alex also says it is a great place to cultivate your network and make long-lasting friends. He recommends this program to incoming freshmen who want to get involved in entrepreneurship and be put in a welcoming community.
Alex is also a member of the Society of Entrepreneurs. He enjoys the general body meeting and the many opportunities offered. For example, students who are  creating businesses often reach out to other students in SOE asking for help or expertise in a variety of fields which is a great way to meet students that have an assortment of majors.
His involvement with Launch Pad, SOE, and the Entrepreneurship Program taught him a lot about the realities of life as an entrepreneur. He says he learned a lot from the Speaker Series. The Speaker Series is when the Entrepreneurship Program and SOE host various entrepreneurs to come to Studio 225 to talk about their entrepreneurial journey. Alex says that is when he realized the time, effort, and money it takes to start a successful business and also the importance of surrounding yourself with good people. He highly appreciated when one speaker said to find people who will stick with you, not people who are just going to be there.
For this coming semester, he is excited to attend the many pitch competitions the Entrepreneurship Program holds and see some deserving companies walk away with a lot of prize money. He is also contemplating applying for the Certificate in Entrepreneurship to continue his education. For the more distant future, Alex has some ideas for a company he wants to create so be on the lookout for that. For now, he is a brand ambassador for Nintendo and a YouTuber (currently on hiatus) @proxence.
---
November 21, 2019
Stamp Series Vol. 9: Kendra Garcia
How Launch Pad and the Entrepreneurship Program led to Kendra Garcia's success as a freshman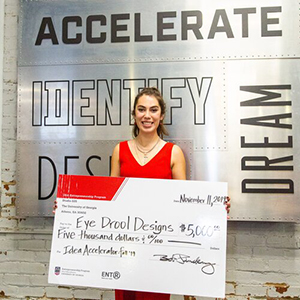 Kendra Garcia is a freshman mechanical engineering major and an art minor from Marietta, Georgia. She found her way to the Entrepreneurship Program through the Launch Pad Program. Through the Launch Pad Program, she has found not only a great group of friends, a place to cultivate her network, and a faculty team that has opened her mind to entrepreneurship, but a place to grow her business, Eye Drool.
Kendra realized the need for her business in high school and since then, her college experience has only led to more opportunities. In high school, she wanted to get a tattoo but her parents would not let her. Not discouraged, Kendra started experimenting with temporary tattoos on herself. Kendra saw there was a real need for her business after seeing a family member go through the difficult process of tattoo removal and the desire her friends expressed for temporary tattoos. From then on she has been drawing with dark, plant-based ink on herself, her friends, and other people her business has reached.
Kendra's temporary tattoo business, Eye Drool, is a platform to match potential tattoo customers with tattoo designers based on the customer's preferences. A consultation is usually inefficiently done over email with a customer's preferred tattoo artist, who could be states away. Also, customers generally want a customized tattoo and that is hard to get done with the current process. That is where Eye Drool comes into play. Eye Drool allows a customer to see a designer's portfolio and ease the process of consultations by matching a customer directly with a designer. This designer can then make a custom tattoo design that a customer can take into a tattoo parlor and get done or just have it for a temporary period of time. Kendra's hope now is to build an app that does just that. Also, she wants to expand to have more designers and eventually, connect to tattoo parlors to get them on board.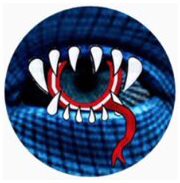 Kendra and Eye Drool found the perfect place to cultivate and grow. Kendra said that without Launch Pad and the Entrepreneurship Program she would not be as developed as an entrepreneur, especially as a freshman and a major that is not in the Terry College of Business. To this extent, she has also taken advantage of the opportunities given by the Entrepreneurship Program. Kendra won $5,000 for her business in the Fall Idea Accelerator Program. This program is an intensive eight-week program where students build their business ideas. Kendra said the most important aspect of business she learned through this process is that you have to detach yourself from your product so you can follow what your customer base wants and to also start with fixing a problem rather than selling a product. For the future, she is looking to apply to other programs offered by the Entrepreneurship Program and you can see how her business grows on Instagram @eye.drool
---
November 14, 2019
Stamp Series Vol. 8: Rachel Ratke
The influence the Entrepreneurship Program has had on Rachel Ratke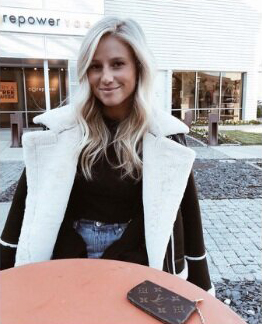 Rachel Ratke is a senior advertising major from Dallas, Georgia. She found her place in Athens and at the University of Georgia after taking a gap year following high school graduation and transferring from a few different schools. Since she was little, Rachel always loved being creative and know she wanted to own her own business. She decided to apply for the Entrepreneurship Certificate Program to get the direction she would need to pursue her entrepreneurial aspirations.
When she was accepted, she was excited to see what she could learn from the program. After completing the majority of her program base class, Rachel has been able to gain valuable information about how to start a business. She has networked with guest speakers and stayed in contact with her professors to help her along the way. She has not only gained experience professionally networking with business owners, but she can meet new faces that be beneficial to her in the future.
One of the most unique parts of program-based courses is the inside information you get from the entrepreneur guest speakers. Listening to their stories gave Rachel the perspective that you can start from nothing and create something great. Each entrepreneur has successes and failures which lead to great advice. The Entrepreneurship Program has led Rachel to a lot of good resources and answers on how to go about starting a business. She was able to pair her creative side with the qualitative side of running everything that she learned through the program. Rachel has many goals and a creative vision for her future as an entrepreneur. As of now, she has a Fashion, Lifestyle, and vlog channel on YouTube that was launched in December of 2018. After graduation in May, Rachel is starting a clothing line branching off of her YouTube channel.
"It's a great program, and if you are a student looking for a creative outlook or have an idea for your own as a startup, I definitely recommend!" 
- Rachel Ratke
---
November 6, 2019
Stamp Series Vol. 7: Rose Baker
The beginning of Rose Baker's journey at the University of Georgia in the Entrepreneurship Program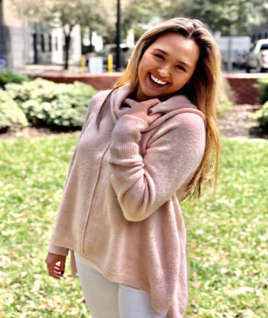 Rose Baker grew up in the small town of Twin City, Georgia. With the hopes of expanding her horizons past her hometown and stepping out of her comfort zone, she applied to her dream school, the University of Georgia. She has found herself a first-year student on campus enjoying and experiencing all parts of the university. She is a political science and criminal justice major, but with the business path also in mind, she decided to take a course in the Entrepreneurship Program to discover and explore that avenue of her interests.
Rose has enjoyed the introductory course more than she anticipated as it has helped her pinpoint the factors of business she was not aware of. Throughout the course, Rose has been able to experiment with her jewelry business. Originally she started making bracelets as a craft but it has led to an easy way to earn some extra cash. She has learned how to discover her target market in the ENTR course which has helped her business and increased sales. While learning the details of how a business grows, Rose can take her new knowledge and apply it to the makings of her business.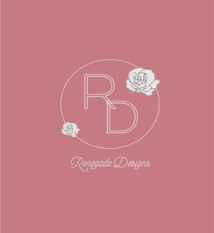 Rose says that she would not be as developed as an entrepreneur without being in the ENTR Program because of the preparation and mentorship it has given her. She takes advantage of the resources and knowledge from her professors. She goes to them for advice when she runs into issues that come with a business in the making. They are always willing to help and give valuable insight from their own experiences.
One perk of being in the program is having the opportunity to meet with business owners and entrepreneurs. Rose has had many takeaways from their success, and their failures. Without the Entrepreneurship Program,  Rose said she would not know her exact customer base. Figuring out how the brain of your customer is not only important for sales and positive cash flow, but it is crucial for the future of a business. After the first course, Rose is ready to fulfill the rest of the Certificate Program within her time at the University of Georgia.