There's no telling how many names "it" holds, and Cecil Cooke isn't one to entertain guesses. Then again, some have no idea what "it" is.
"It's funny," Cooke says with a grin, "when I talk to students about it, they want to know: 'What is a Rolodex?'"
The Rolodex — a portmanteau of rolling and index — was once an indispensable office device now lost in the digital world. A seasoned risk management professional who spent decades building relationships with clients, underwriters, colleagues and professional service providers, Cooke's round file of 3×5 cards was a lifeline to leads, opportunities, connections and friends. For a man of Cooke's bearing — honest and direct whose aim in each encounter is to create authentic relationships — his contacts were paramount.
And Cecil Cooke has a vast number of contacts.
"But he doesn't talk about it because he's humble — he doesn't make it about his Rolodex," says Chris Brown (BBA '87), founder and managing principal at Brown Miller Wealth Management. "He knows a lot of people in the industry, but I don't know how broad and how deep that goes. He simply uses his Rolodex to help benefit others."
"It's 2022 and he still calls it his Rolodex?" Michael Patrick (BBA '03), who leads menu strategy at Chick-fil-A, says with a laugh. "Anyone will take his call because they know he cares about them. And he's not making up a reason to call them — he's calling them because either he needs their help, or he wants to help."
Cooke was a former managing director and senior executive at companies such as Aon, Marsh McLennan and Palmer & Cay, but now serves as an adjunct professor in the Terry College's Risk Management and Insurance Program. His course brings experiential learning to 45 students a semester, and if they put in the work, he provides them access to the Rolodex.
"For students that do everything I ask, I'll open up my Rolodex and help them get opportunities for internships or jobs," he says. "But it's up to the students to win the day. I can't win them anything. I may get them a meeting, but they have to win it."
Since its inception in 1964, the Terry Distinguished Alumni Award has been bestowed on company CEOs, U.S. senators, Georgia governors and an NFL Hall of Fame quarterback. While Cooke hasn't reached those echelons of fame, he's achieved storied status in a celebrated career by opening opportunities to others.
"The number of young people he's helped place in internships and jobs has got to be staggering," says Patrick. "I can't imagine who else offered up his Rolodex to more students. One of the things you remember for your entire life is your first job, how you got that job, and the people who helped you do that. It's the biggest thing he's done for Terry."
Growing up in Virginia, Cooke was an active kid who played all sports and "whatever other competitive game we could invent." The youngest of two brothers and one sister, he learned from his father, Thomas Sanford Cooke Jr. — "my hero and the best man I've ever met" — about the value of hard work.
"When we wanted a bicycle, dad would go down to the local hardware store and buy the biggest Huffy bicycle he could find with big fat tires and put a basket on the front," Cooke says. "That wasn't the bicycle we wanted — we wanted the cool ones. He said, 'Now that you have a bike, you're gonna get a paper route, and you're gonna pay for half of the bike.' So we three brothers did 5 a.m. paper routes as soon as we were strong enough to ride."
His father was an engineer who went into the railroad business after graduating from Virginia Military Institute.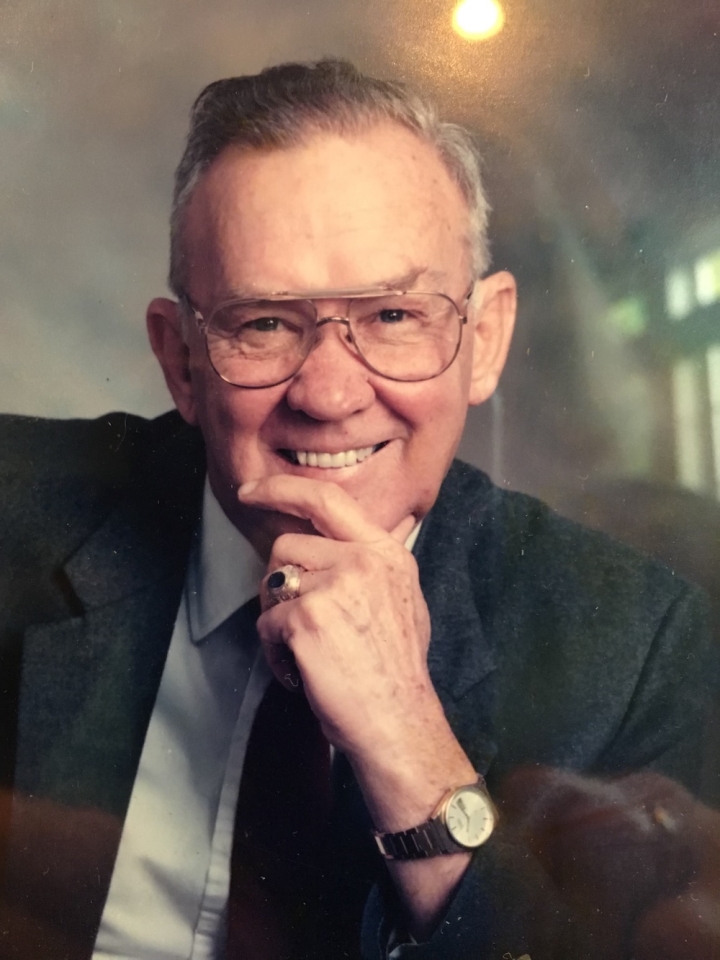 "Dad was a mechanical engineer who also had excellent sales skills," Cooke says. "His claim to fame was designing, then selling, freight cars to power companies. These coal-dumping freight cars are still in use today."
His mother was a trained musician, and Cecil recalls nights his home hosted neighbors for gatherings of music and entertainment. "I remember having a great childhood."
The late 1960s saw the family move to Sandy Springs, where a taller and stronger Cooke, along with his older brother Spady (BSEd '77), turned his attention to football. A two-way starter for the North Springs Spartans, Cooke had dreams of NFL stardom. They ended when he "ripped his knees to shreds" during a pickup tackle game in the rain. Facing a daunting crossroads in his young life, Cooke turned down his father's offer to pay for VMI and chose to pay his way at UGA.
His first inclination was to be a weatherman, but that entailed a path through geography requiring more science than he wanted. Focusing on what he did like — math, history and communication — an introductory insurance course piqued his appetite for helping people. "What fascinated me was blending the concepts of analyzing risk, understanding financial transfer and legal contracts." He was fortunate that E.J. Leverett, the founder of Terry's Risk Management and Insurance Program, served as one of his professors and early mentors.
It was at UGA in the fall of 1975 that he met the woman who influenced his life. Pamela Colby was an English education major (BSEd '75) who was "smarter than me" — a beautiful person who attracted people through "her smile, energy and amazing heart." After rejecting his initial requests "at least 15 times," Cecil secured the first date in a lifelong match. The pair were together throughout college, marrying eight days after Cooke graduated.
Cooke started his career in sales, working for Cotton States Insurance in Atlanta dialing for dollars and studying contracts. "I didn't know what I was doing. I just knew I was married, and I had to create a living," he says. "I was in a job where you 'eat what you kill,' and Pam was a middle school English teacher. In our first year, our gross income between us was short of $12,000, and Pam made the bulk of that. We didn't have anything, but we were happy."
The pair wanted to start a family, but Pam's lifelong battle with juvenile diabetes meant they couldn't have children. After an initial adoption attempt failed, a surprise phone call opened the door for Cecil and Pam to adopt a baby boy. They named him Taylor, and the three started a journey that took them to Pascagoula, Miss., Savannah, Greenville, S.C., Charlotte, N.C., and back to Atlanta. In each city, Cooke made contacts and friends, developed talent and built a life of servant leadership to follow in his father's footsteps.
"Cecil was one of the leaders when I transferred into Marsh's Atlanta office," says Rachel Perry (BBA '93), Atlanta market leader and resident managing director at Aon. "He's such a good mentor because he's selfless. He's personable, engaging — very much what I call 'regular people.' And that just makes people feel at ease."
Cooke also gave back to the program that helped define his life. The RMI program, which he reminds everyone is No. 1 in the nation, is the source of many great hires for Cooke and the beneficiary of his generosity. He was one of the founding donors of the E.J. Leverett Fund, worked to underwrite student scholarships and served on the RMI Advisory Board. But it wasn't until Cooke joined the Terry Alumni Board that he widened his focus.
"I only knew Terry through my program," Cooke says. "But Rob (Hoyt) came to me and said, 'We need more representation on the Terry board. Would you join us?' The Terry Alumni Board consists of some of the most fantastic people that I have ever met. I served on it for 10 years and have well over 150 meaningful relationships that were formed through our service to Terry."
He made major gifts to Terry and offered the college much of his time in the following years, including serving as board chair for both the Terry and Terry Emeritus alumni boards. He helped diversify the board and never shies away from addressing delicate topics.
"Cecil will bring up challenging issues to the Terry College and real challenges the college needs to deal with," says Perry, whom Cooke helped bring on the board. "He has a way that is non-threatening, non-confrontational, and comes from a deep spirit of love. He is willing to bring up the difficult things to make us better."
"He's charming. He's thoughtful, kind, generous and has a great sense of humor," says Brown. "What you quickly understand and appreciate about Cecil is how committed he is to this university, how committed he is to the Terry College and, most importantly, the students. He has this unwavering commitment to these students. It's inspiring."
The circumstances of Cooke moving back to Athens are bittersweet. Pam's health issues reached a critical point in 2010 when an episode brought the possibility of a long-term rehabilitation stay. Cooke wanted Pam at home and refashioned their Atlanta house to accommodate doctors, nurses and medical equipment.
Cooke stepped down from his leadership roles at Aon, negotiated a reduced compensation package, came off the road and began working from home. He went back to his roots of producing and managing large client relationships for his firm and never stopped mentoring young associates and students. His decision to stay home with Pam — "the greatest thing I ever did" — helped her recover. It also made Cooke realize he could work from anywhere. With that in mind, and getting close to retirement, he asked Pam where she wanted to retire.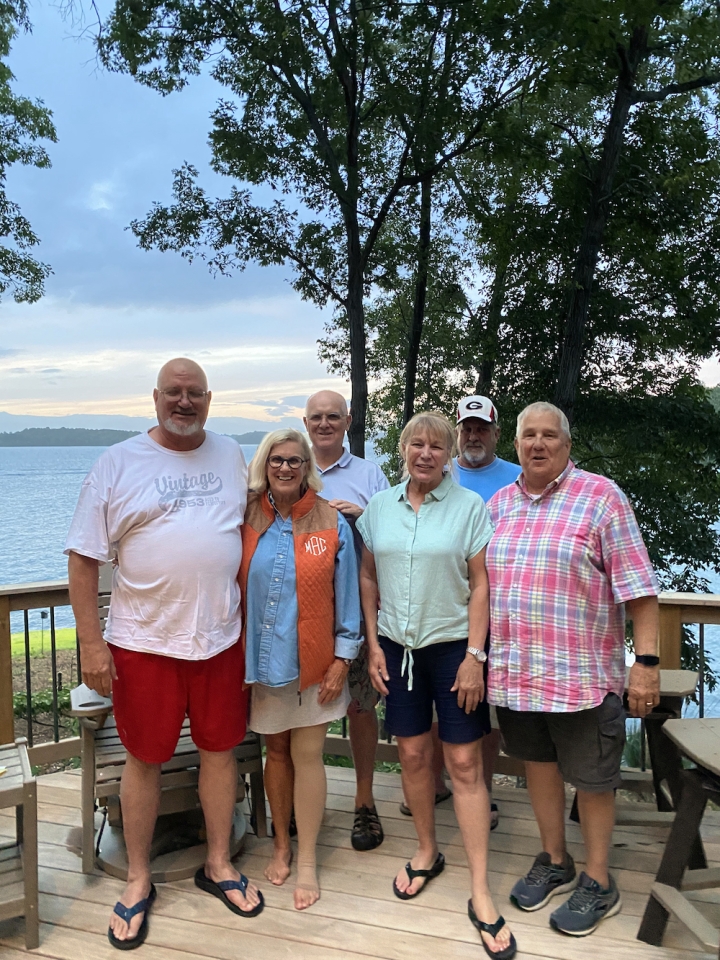 Greenville and Savannah were at the top of her list; Athens was at the top of his. He asked Pam to live in Athens for a year on the condition that if she didn't like it, they would go wherever she chose. A year later, Athens was the choice. They built Pam's house, wide open with lots of light and extra-wide hallways to accommodate her disability.
It was then when Hoyt called again, asking Cooke if he'd consider teaching a Terry course. "I said, 'Rob, I'll be happy to do this if you will allow me to teach it the way I want to teach it, because I am not a professional educator.'" His experiential learning model "created an opportunity where our students can learn from industry leaders who are also looking to hire talented students." Every semester, 30 industry professionals bring their knowledge and insight into the classroom. Students make presentations on the chapter subject and other relevant industry topics, and industry executives show the students how it works in practice.
During a March class, Michael Drayer (BBA '95), Aon's chief commercial officer of media and entertainment, and Jay Sampson (BBA '87), executive managing director at Beecher Carlson, told the room about their career paths, their responsibilities, the teams within their respective organizations, the client's expectations, and answered smart questions from the students.
Cooke stood to the side, watching, waiting until the end to ask the question every student wanted to hear: "When you're looking to hire, what are the qualities you are looking for, and as you are working with your teams, what are the qualities you see that differentiate who you promote and who you don't?" Drayer and Sampson offered pertinent answers to a quiet crowd that soaked in every word.
Another 45 students with access to the Rolodex and the opportunities it affords.
It was a Friday, unseasonably warm and rainy for early January, when Pam lost her battle with diabetes. She was 66.
"One of her greatest attributes was she could back me into the corner and tell me when I was dead wrong," Cooke says. "She had an amazing ability to read people's hearts. And she was a people person … how she loved to gather people. Most of our best friends came through Pam. Diabetes is like most debilitating diseases: It grinds you, destroys your body and you end up in incredible pain. But she never let that disease define her, and she never let anyone know how she felt. I have never met anyone that could match her inner strength."
He sees through his son Taylor, who has kids of his own, the spirit Pam brought to the world.
"He's got a great heart, and his mother had a lot to do with molding who he is," Cooke says. "He's incredibly talented and one of the most patient and calm individuals I've ever met. His love of family and being there for family, he definitely has that. My dad passed away when Taylor was young, so he didn't get to know him well. Dad taught us to treat everyone with dignity and respect, to own our mistakes, to be honest and forthright and that family was most important. Pam instilled those qualities in Taylor, and he lives the model of family first, family always."
These lessons, which Cooke continues to share, are not lost on those who know him. In a life of constant movement, Cecil Cooke always remained grounded.
"One of the most impressive things about Cecil is how he has his priorities in order," says Patrick. "His marriage to Pam was so important. Taking a step back in his career to be with her is huge — that's what you should do. My wife and I want that to be our relationship when we're older. Those are personal things I truly value, and he embodies that."